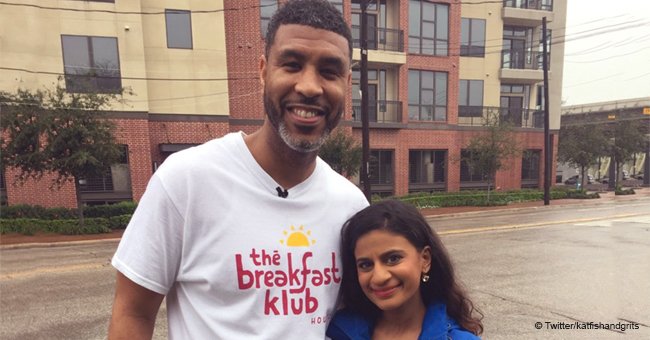 Former FLOTUS Michelle Obama Joins Husband with Her Own Mural in Houston
A mural is currently being painted for the former First Lady of the United States, Michelle Obama ahead of her visit to Houston on her book tour "BECOMING."
As a means of honoring the immediate past First Lady of the United States, Michelle Obama, an artist has begun painting a mural of her in Houston. The painting is to be situated adjacent to her husband, former President Barack Obama's, which has been in existence for 11 years now, opposite The Breakfast Klub, a restaurant in the city.
The mural will feature some of Michelle's efforts at empowering young girls through the "Global Girls Alliance," a mission to support girls using education and equipping them with tools to help their families and communities.
The artist, as it happens, is hoping to complete the painting before the "Becoming" author lands in Houston on her national book tour, which is said to be the best seller on Amazon at the moment.
When the mural is complete, its admirers can rest assured that it would be safe from vandalism. The owner of "The Breakfast Klub," Marcus Davis, has been kept busy maintaining Barack Obama's mural from vandals since it appeared on the wall.
"This mural is symbolic of the presidency of Barack Obama," he had said back in 2013. "He wakes up every day to obstacles and challenges far greater than a doggone mural being defaced. If he has the level of courage and type of character that causes him to continue to go on, I'll be damned if I stop."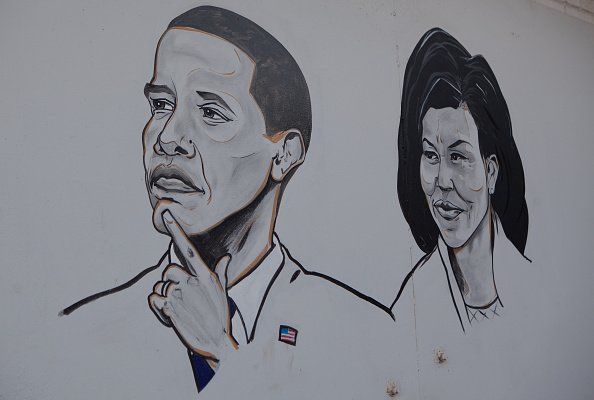 Hand painted mural of President Barack Obama and Michelle | Photo: Getty Images
The mural has been defaced several times - one time, black and red paint was splashed across the 10-foot painting. The painting has been redesigned, and an image of a young, blue-eyed, white girl was added. Davis had once tackled a man who he suspected of intending to vandalize the painting.
At a time, he'd also been frustrated about the vandals' actions. He, however, admits that each time it has to be repainted, it is a chance to repaint a different version of the mural.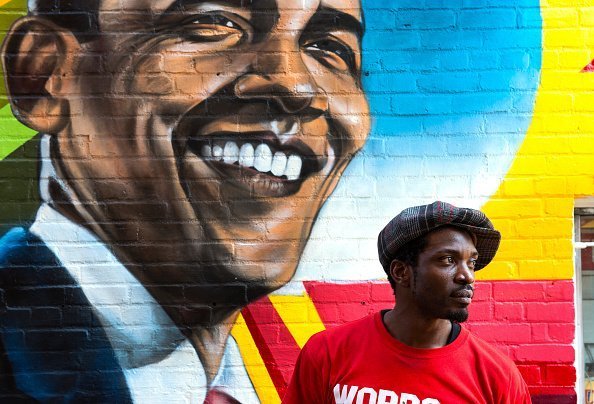 Mural of Obama | Photo: Getty Images
Michelle Obama's mural in Chicago, had, in 2017, sparked copyright controversies. Allegations were made that it copies a piece shared on Instagram, without proper acknowledgment or even payment to the original artist. The issue started when a Gelila Mesfin drew on a photograph of the former First Lady taken by a New York Times journalist.
The adaptation of the picture became very popular until Chris Devins, a Chicago-based artist saw and developed an interest in it. He then proceeded to recreate Mesfin's work on a building opposite Michelle's former elementary school, his initial choice location.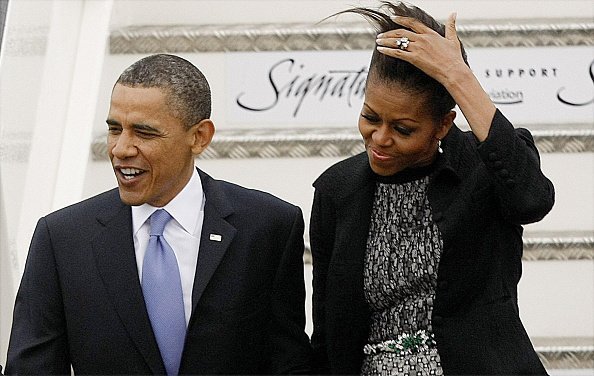 Barack and Michelle Obama | Photo: Getty Images
Mesfin did not take offense at her work being used, but she frowned at not being asked for permission to use the piece. Devins eventually acknowledged her and offered to pay, after initially arguing that Mesfin had no legal basis for her allegation as she also used another persons work.
We hope that this upcoming mural of the former First Lady will not become the subject of such rigmarole after it is finally unveiled.
Please fill in your e-mail so we can share with you our top stories!