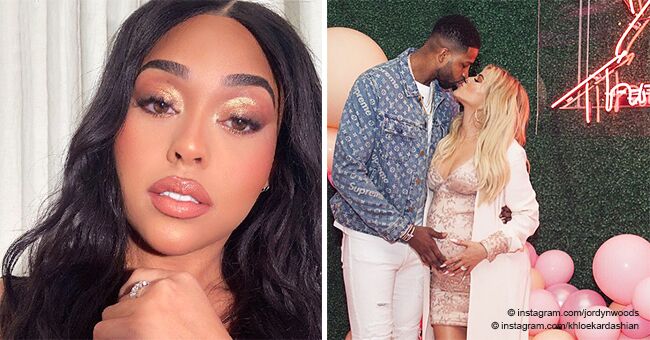 Jordyn Woods Reportedly Admits Affair with Tristan Thompson Was Wrong, Calls It a 'One-Time Thing'

Jordyn Woods may be talking about her scandalous hookup with Tristan Thompson in an upcoming episode of Jada Pinkett Smith's talk show, Red Table Talk.
Since the Jordyn Woods/ Tristan Thompson scandal broke on February 18, the Internet grapevine has been buzzing with contradictory reports of where, what, why, and who did what to whom.
Now it seems we will get the truth straight from the horse's mouth, Jordyn Woods herself.
"She was drunk but not blacked out. Afterwards she knew she had messed up and was like 'I gotta go, I gotta go.' It was a one-time thing."
JORDYN BARES ALL TO JADA
Woods has opened up to Jada Pinkett Smith on her talk show, "Red Table Talk," and though no smidgen of her declarations have leaked out, speculation is rife.
What may prove to be the tell-all interview of the year is set to air on Friday, March 1st, 2019.
The "Red Table Talk" interview is bound to add fuel to the flames of the already blazing scandal
THE SCANDAL THAT SHOCKED THE KARDASHIAN CLAN
Shortly after Valentine's Day, the story broke that Kylie Jenner's BFF Jordyn Woods has hooked up with Khloé Kardashian's boyfriend - and the father of her child - basketball player Tristan Thompson.
THE AFTER PARTY THAT TURNED INTO A HOOK-UP
Woods and Thompson apparently ran into each other at a Valentine's Day party organized by singer, Duke. Guests at the party noted that the two were very "intimate" and friendly. Later the party moved to Thompson's home, where the two supposedly hooked up.
JORDYN WOODS CLAIMS INVOLVEMENT WITH THOMPSON WAS SHORT LIVED
Pinkett Smith will give Woods a chance to tell her side of the story, and explain as best as she can how she ended up betraying her BFF and her sister.
Woods has allegedly tried to contact the Kardashian-Jenner clan and been rebuffed. She is no longer living in Kylie's home, and her business connections to the Kardashians has been terminated.
The "Red Table Talk" interview is bound to add fuel to the flames of the already blazing scandal - and get Jordyn Woods even more public attention.
KHLOÉ KARDASHIAN'S BFF STANDS BY HER
Since the Tristan Thompson/ Jordyn Woods hook-up was revealed, fans and friends have come out in defense of Khloe Kardashian.
Her most ferocious frontline defender is BFF Malika Haaq who hasn't pulled any punches where Woods' behavior is concerned.
Haaq has now suggested that Woods has used her interview with Jada Pinkett Smith to "clean" her image, claiming she was drunk to dodge responsibility for her actions.
In a related story, Jordyn Woods is will be cut off from any future business ventures with the Kardashian clan following news of her involvement with Tristan Thompson.
Please fill in your e-mail so we can share with you our top stories!