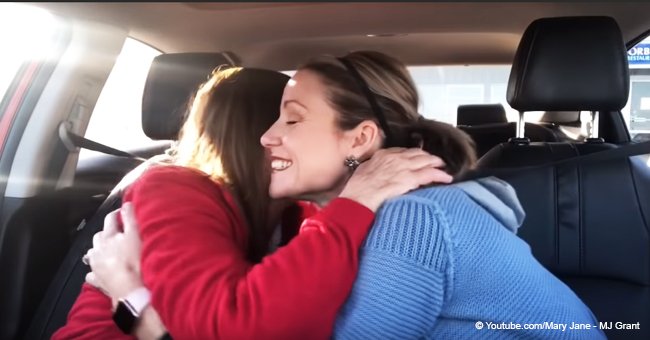 Touching Moment a Woman with Dementia Embraces Her Daughter, Remembering That She Is Her Mother
A woman recorded herself having a conversation with her mother with Alzheimer's and captured the emotional moment in which she recognizes her.
Mary Jane Grant managed to capture the moment when her 76-year-old mother, who suffers from Alzheimer's and is also deaf, recognizes her and shared the video on social media where it quickly went viral.
"Dementia can be beautiful. Yesterday I took my mother for a walk to the beach. Removing her from her element (my home, where she lives) can be confusing for her. But within the confusion, there can be so much beauty and small sweet surprises. I just love it," the woman wrote to accompany the recording.
In the video spread on social media, it is seen that Mary Jane has a conversation with Carmen, who did not know who she was, so she helped her recover her memory.
In the images, Grant and mother communicate with sign language. At the beginning of the conversation, the old woman does not know who the young woman is and is surprised by the development of Mary Jane in sign communication, so she is interested in knowing how she learned.
The young girl gave small clues sympathetically to her mother so that she would realize who she was talking to.
The images begin with Mary asking her mother: "Where is Mary Jane? To which she responds: "I saw her a long time ago, Christmas. I forgot it. Where was it, in what city? "
Mary insists: '"Where is Mary Jane at this moment?", to which Carmen responds "I have no idea, maybe traveling."
The woman with Alzheimer's then asks: "Do you know her?" To which she replies "Oh yes". The young woman then confesses that she can speak in sign language because she has deaf parents.
A while later, after Mary gives a lot of clues, Carmen asks: "I am your mother?" She takes her hands to her surprised face and hugs her daughter in a very emotional moment for both of them.
The power of music can fight against Alzheimer's, and this grandfather experienced it firsthand as he danced happily with his two granddaughters on Christmas' Eve.
A video uploaded on Twitter by Spanish Youtuber Rocío Vidal went viral on social media.
In the 26-second clip, the girl introduced her 80-year-old grandfather, who has Alzheimer's disease, in a luminous moment that they lived together on Christmas Eve thanks to the music.
Please fill in your e-mail so we can share with you our top stories!