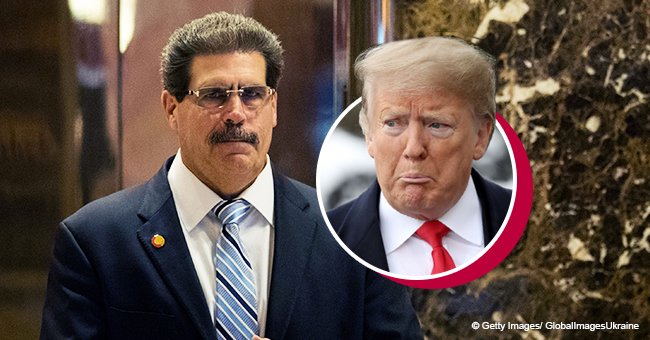 Trump's Bodyguard Became Mysterious Star after Cohen's Hearing
The name Matthew Calamari came up during President Donald Trump's former lawyer Michael Cohen's testimony to the Congress, and while many believed it to be made up, this person actually exists.
February 27 was a tough day for the US President. During the same 24 hours, Trump failed to reach an agreement with North Korean leader Kim Jong-Un in Vietnam and his former lawyer made terrible statements about him.
But an until now mostly unknown character belonging to Trump's circle has risen to fame when Cohen named him among others who might have information about fraud allegedly committed by the president of the US.
Allen Weisselberg, Ron Lieberman, and Matthew Calamari were mentioned as people who might have "damaging information" on President Trump.
While Rep. Alexandria Ocasio-Cortez, who was questioning Cohen, didn't have a visible reaction to the name of Matthew Calamari, viewers were immediately intrigued by the peculiar name, and they took to social media to comment on this.
"Matthew Calamari absolutely cannot be a real person," Kathryn Van Arendonk tweeted. "'Matthew Calamari' is such a perfect name for a Cohen associate," added Tommy Vietor.
The name was soon trending on Twitter, and it was confirmed to belong to an actual person who got started as Trump's bodyguard roughly 40 years ago and has escalated positions in the president's inner circle from them on.
According to Trump biographer Michael D'Antonio, it was Calamari's unconditional loyalty to the billionaire that propelled his quick ascent.
"I love the guy. My thing is, I've always promised I would, knock on wood, never let anything happen to him," Calamari said about his boss back in 2015.
Calamari is mentioned in "Lost Tycoon: The Many Lives of Donald J. Trump" a biography by Harry Hurt III published in 1993. The then-bodyguard starred in a revealing episode.
"You'd do anything for me, wouldn't you, Matty?" Trump asked his occasional driver when riding in a limousine with a friend around Manhattan, to which Calamari replied "Yes, sir, Mr. Trump," Hurt wrote.
"Would you kill for me, Matty?" Trump allegedly went on to ask, testing him. "Yes, sir," Calamari reportedly replied without a doubt.
Trump himself had something to say about Calamari in his 2004 book "Trump: How to Get Rich," where the current US president tells about the qualities he finds in his trusted employee.
"After getting to know Matthew, I realized he had a lot more to offer than his job title warranted, and he has proven me right," Trump shared.
"He's a dedicated and trustworthy worker, and any CEO in his right mind would want to have him around," he added.
Calamari also made an appearance on the second season of reality competition "The Apprentice" that was starred by Trump and other prominent businessmen.
Beyond Calamari's newfound viral fame and all the fun the Internet is having at his expense, the former security guard who is now one of the three top executives of the Trump Organization will probably face scrutiny by federal prosecutors.
Cohen pleaded guilty to making false statements to Congress about the investigation into Russian interference into the 2016 Presidential elections. He was sentenced to three years in prison.The charges were brought by Robert Mueller, the special counsel in charge of the investigation.
When confronted with Michael Cohen's confession, President Donald Trump stated that his former lawyer "weak" and "not a very smart person," and has accused him of "trying to get a reduced sentence for things that have nothing to do with me."
Please fill in your e-mail so we can share with you our top stories!