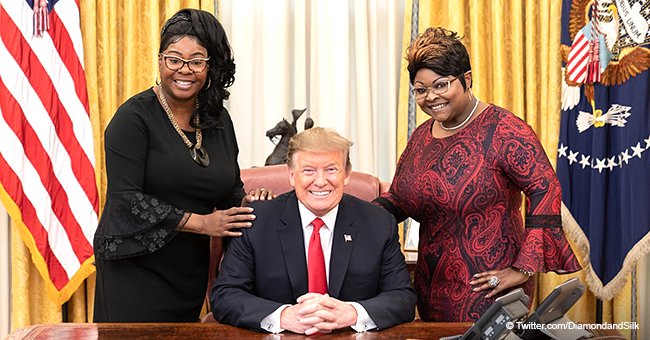 Trump Highly Praised by Internet Vloggers Because of His Work for Black People & Folks Are Baffled

Internet vloggers "Diamond and Silk" praised President Donald Trump last Friday, crediting the "work he's done to assist the Black community." People are now confused as to what exactly the president did for the community, slamming the two vloggers in the process.
"He's done more for black people than any other President in our lifetime."
It's no secret that Diamond and Silk are Donald Trump's most loyal supporters as stated in their social media biographies. After finally being able to meet the president in the flesh, they praised him for the work he's done to help the Black community. Unfortunately for them, the Black community is just not having it.
On Twitter, the two social media personalities wrote:
"Enjoyed chatting with our great President, @realDonaldTrump. We love & support the @POTUS because he loves & supports all Americans. He's done more for black people than any other President in our lifetime. There are those that write history but President Trump is making history."
The two women posed in between POTUS in the Oval Office, each extending a hand over the president. Trump looked happy to be with his two supporters, flashing a huge smile for the camera.
Their tweet was met with heavy criticism, with members of the black community asking what he's done for them.
A Book on Donald Trump
While Diamond and Silk had nothing but praises for the president, Donald Trump's former White House aide, Cliff Sims, also had a lot to say about his former boss. He wrote "Vipers Team: My 500 Extraordinary Days in Trump's White House," which was published in January.
Trump was infuriated with the book, threatening to sue his former aide. He claims that a "low-level staffer" wrote "another boring book based on made up stories and fiction. He pretended to be an insider when in fact he was nothing more than a gofer."
Unfortunately for POTUS, Cliff said that he already knew Trump was going to say this about him.
"There it is. Look, I knew it was a possibility when I wrote this book. Do not matter to me what Donald Trump or anyone else says that I am."
Thanks to Trump's tweet, more people are getting to know Cliff Sims, purchasing his book in the process. Instead of trying to deviate people away from the issue, Trump ended up drawing them in even more.
Please fill in your e-mail so we can share with you our top stories!