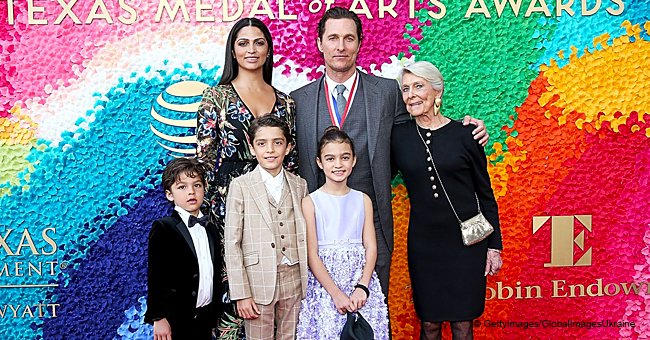 Matthew McConaughey and His 3 Kids Make Their First Public Outing in 4 Years
On Wednesday, actor Matthew McConaughey honored for his work in Austin, Texas. To walk the red carpet with him for the occasion, the star brought along his wife, mother, and three children.
McConaughey and his wife rarely bring their children to the public eye. Seeing them together was a real treat for his fans.
Matthew McConaughey, 49, was honored at the Texas Medal of Arts Awards at the Long Center for the Performing Arts. His wife, Camila Alves, 37, his mother Kay, 87, and his three children were all with him.
The actor and his wife are parents to son Livingston, 6, daughter Vida, 9, and son Levi, 10. The happy family was seen posing together on the red carpet and the children are growing up.
Livingston wore a three-piece black suit with a bowtie to the event. Levi looked handsome in a beige plaid suit, while Vida looked adorable in a light-purple dress with black shoes.
McConaughey's mother wore a black dress. The star's three children rarely attend events with their famous parents but once-in-a-while they make an exception.
The last time they were seen was at a premiere of "Sing" in 2016. Two years before, the actor was honored with a star on the Hollywood Walk of Fame and his children were there too.
Their mother also tends to share their photos on her Instagram account now-and-again. Last June, she posted a family photograph in honor of Father's Day.
She captioned the post, "I can sit here and write a long text … but, words cannot describe … Period. Thank you." In a September interview, McConaughey had spoken about his children's independent nature and the discipline they're taught.
The actor told Savannah Guthrie on the "Today" show:
"We mix the 'alright, alright, alright' into the discipline. The main thing is that my wife and I, Camila, we have a similar moral bottom line. And as you learn, if you have kids, every day they get older, you realize how much more it's really DNA."
"We can nudge 'em and shepherd 'em, et cetera et cetera, but they are who they are. And right now, I'm just happy to say we have three healthy ones and they're very much individuals."
He and his wife got married in 2012, nearly four years after they had Levi and two years after Vida's birth.
The last time the couple was seen out together was at the New York City screening of McConaughey 's film, "Serenity" in January. However, it's been nearly five years since their children appeared in public.
Please fill in your e-mail so we can share with you our top stories!