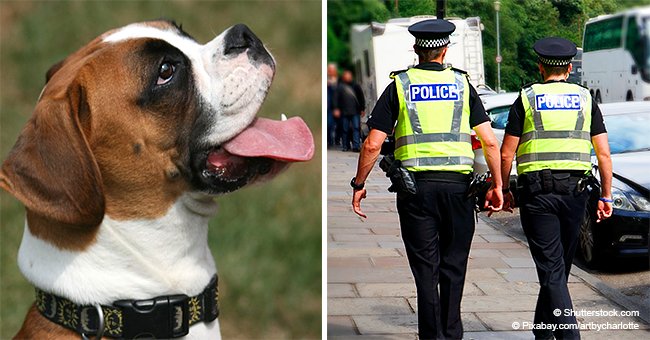 White Woman Calls Police on Black Man Because His Dog 'Humped' Her Dog at a Park in Viral Video

A white woman in Massachusetts has gone viral after cellphone footage showed her calling the cops on a black man because his dog humped hers at a dog park. The video is found below.
Franklin Baxley went with his dog to a park in Attleboro but had no idea he was going to be confronted by another canine-owner, especially for something as natural as courting ritual between dogs.
In a series of clips Baxley shared to Facebook on Wednesday and Thursday, the yet-to-be-identified white woman is seen in a long, black, puffer jacket and matching sneakers.
"Why did this lady just call the cops on me claiming my dog "assaulted" her dog when it tried to hump her dog," Baxley captioned the first video.
It shows the white woman, now dubbed "Dog Park Diane" and "Dog Park Debbie" by online viewers, on the phone with the cops while another white woman stands to her side.
STANDING HIS GROUND
As the woman speaks with the police, Baxley can be heard saying in the background:
"Why're you calling the cops right now? Because I told you I wasn't leaving the park? Because my dog was humping your dog? I'm not verbally assaulting you. I told you I'm not leaving."
The other woman, identified as Carol Cobb Ferraro, who works at the park, attempted to justify Diane's actions, claiming: "That's inappropriate for the dog park," but Baxley stood his ground and retorted:
"No, it's not! They were humping each other and she's calling the cops! I've seen every single dog hump another dog here, and she tells me to leave, and now she's calling the cops? Are you serious?"
BARBECUE BECKY MAKES AN APPEARANCE
Baxley then compared the woman's actions to Barbecue Becky, another white woman who went viral last year for calling the cops on a black family barbequing in Oakland, California.
"You ever heard of Barbecue Becky, 'cos this is the newest one," yelled Baxley.
Subsequent videos show the police arriving at the scene and attempting to restore peace.
According to Dailymail.com, the Attleboro Police confirmed that both parties were reasonable and understanding and that no charges were filed in the situation.
ALLEGATIONS OF RACIAL MOTIVATION
Baxley, a former attorney, told Yahoo Lifestyle he believed the woman's actions were racially motivated.
"This woman wanted to impress upon me that she was superior," he said. "Her first instinct was to call the police when in conflict with a black person."
Baxley further revealed that he visits the dog park regularly and all the dogs get excited when they see a new one.
"When the woman came in, my dog Dusse ran over and humped hers, so I immediately removed him and apologized, explaining that he's a puppy. She said, 'I think you need to leave because your dog keeps doing that.' I said I wasn't leaving and she took out her phone and called 911. It escalated quick."
OUTRAGE & SIMILAR INCIDENTS
The incident has since sparked outrage on social media with many users berating the woman for calling the cops over a trivial issue. It also brings to mind other cases of white people calling the police on black folks over flimsy complaints.
In 2018 alone, we saw a white woman earn the name "Permit Patty" after she called the cops on an eight-year-old black girl selling bottled water to help her mom who just lost her job.
Another white woman went viral after calling the authorities on a black couple because their car blocked the crosswalk by a few inches. The internet promptly nicknamed her "Crosswalk Cathy."
Sadly, it's 2019, and instead of thinking of these cases in the past tense, we have to add "Dog Park Diane/Debbie" to the long list.
Please fill in your e-mail so we can share with you our top stories!