Viral video shows white woman calling authorities on black couple for parking near crosswalk
A white woman in Portland, Oregon has become the latest in a long list of memes after she was filmed calling the authorities on a black couple. Their offense: they blocked the crosswalk with their car.
Rashsaan Muhammad and Mattie Khan were at Little Big Burger on North Mississippi Avenue to pick up their order when they first noticed a white woman staring at their parked car from across the street.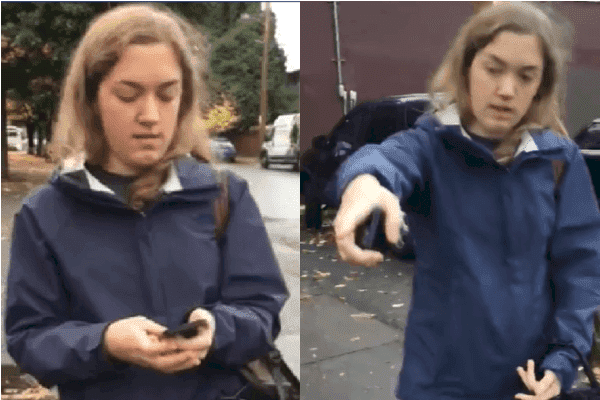 Muhammad told Portland Mercury they found the woman odd but didn't feel there was a cause for alarm. It wasn't until they were walking toward their car that they began to suspect something was wrong.
Muhammad said the woman was on the phone as they approached and Khan said she tried to start a conversation after hearing the woman describe their car and read out their license plate number to whoever was on the other end.
"I asked her who she was calling and what was going on," Muhammad said. "It was clear she was talking to the police."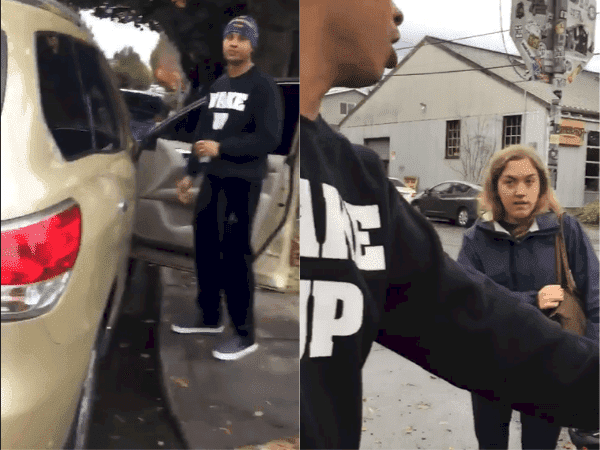 It was then that Khan took out her phone to record the interaction. The 30-second video shows the white woman with a phone to her ear as she points at the car. She said:
"You can't block the crosswalk. Look at this. You are!"
The white woman also held on to a bike helmet, and when Muhammad scolded her to go back to her neighborhood, she told them that was her area.
Muhammad agreed that he knew the parking space was a tight fit but figured that their order wouldn't take more than ten minutes to pick up.
THE BIGGER PROBLEM
An anonymous source later revealed that the white woman was calling the transportation bureau and not the police as widely speculated. Still, it hurt Muhammad that she didn't think to talk to them first before calling the authorities.
He lamented:
"It's part of a bigger problem that we as a community need to address. New people come in and change a neighborhood and it causes these kind of stressful situations. We don't interact with each other they way we used to."
Muhammad told Newsweek that the incident occurred on Sunday, but they didn't decide to share the video until the next day. Khan shared it on her Facebook page, and in no time the clip went viral.
The couple decided to post the video on Facebook after a few days, and the clip quickly went viral.
"We really thought that we needed to bring awareness to this," Muhammad offered.
A NEW MEME
Before long, the white woman became the latest meme and has now been named "Crosswalk Cathy." She joins other white folks who grew infamous for calling the cops on black people merely going about their daily lives.
BARBECUE TROUBLE
In April, an Oakland woman became a viral meme after she was caught harassing a black family for using a charcoal grill where they should have used a non-charcoal one. Taking things to the extreme, she called the cops and would eventually become the woman we know as "Barbecue Becky."
HARASSING A CHILD
In July, a white resident in Cleveland, Ohio also called the police on Reggie Fields, a 12-year-old black boy mowing a lawn. As it turned out, that story also went viral and resulted in multiple job requests for Reggie Fields.