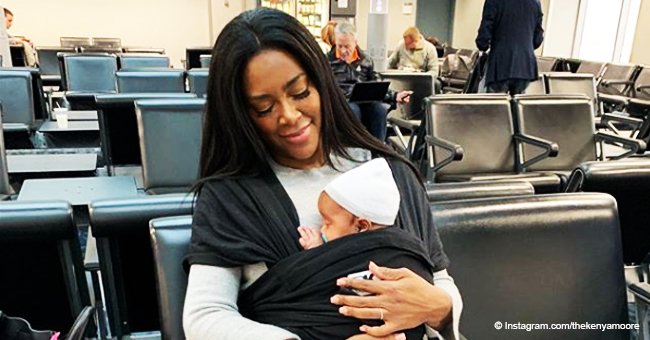 Kenya Moore Posts Adorable Pic with Daughter after Showing Her Baby's Morning Mood in Sweet Video
Kenya Moore was asked to leave a restaurant after she changed her baby's diaper at the table.
Reality star Kenya Moore has had a rude awakening and discovered the hands-on joys and problems of being a new mother.
Moore, 48, who gave birth to her first child Brooklyn Doris Daly on November 4, 2018, was involved in an embarrassing incident at a restaurant due to her inexperience as a mom.
"Last week when I was traveling with Brooklyn; I got kicked out of a restaurant for changing her diaper! OMG, I was so embarrassed. I had no idea about these rules!"
AN EMBARRASSING INCIDENT FOR THE FORMER MISS USA
Moore, who shares 3-month-old Brooklyn with restaurant owner husband Marc Daly, was asked to leave a restaurant with the baby after several customers complained to management.
Moore had been changing the baby's diaper at the table, not knowing she had to go to the restroom to do this.
Restaurants and any other business catering to the public are obliged by law to provide baby changing facilities on their premises
KENYA MOORE FOUND AN APP TO HELP
Bewildered by the do's and don't's of motherhood, Moore confessed that she has since downloaded an app, @peanut. The app was created to put women in touch with each other and provide a supportive community for new moms.
"I used @peanut to ask how to find a good nanny, how old Brooklyn has to be to start eating food, is this a rash or eczema, and where else can't I change her diaper LOL! Go check it out and create a profile; the app is a must-have for mamas and mamas-to-be. #peanutapp"
FANS OFFER SUPPORT AND ADVICE
Fans of "The Real Housewives of Atlanta" alum reached out in support and offering sensible and useful advice.
"Cute baby, sorry for that Kenya, you are a great mom. I have never heard of such a thing that's horrible! People are always trying to criticize somebody and ready to criticize somebody."
"I'm so happy to see you and your family so happy. Not on the restaurant seat? I wouldn't want to see that. Why didn't you go to the restroom? Was that not allowed? I've done this, and I'm not ashamed."
RESTAURANTS TO PROVIDE FACILITIES TO MOMS AND DADS
Moore will be relieved to know that restaurants and any other business catering to the public are obliged by law to provide baby changing facilities on their premises since the act was signed into law by President Obama in 2016.
If Marc Daly ever has to take care of the doo-doo, he will be relieved to know that in California, restaurants have to provide baby changing facilities in men's rooms for hands-on dads.
BROOKLYN IS DADDY'S VALENTINE
Kenya Moore's husband, Marc Daly, is an adoring dad to tiny daughter Brooklyn. And who could blame him? The baby is as cute as a button and promises to be as beautiful as her mom.
The couple posted a photo of Brooklyn and dad on Valentine's Day on her Instagram accounts, and hearts melted:
"Me and my valentine #daddy #brooklyndaly #miraclebaby"
The photo shows Daly cradling the baby who is wearing a white long-sleeved t.shirt and the tiniest red tulle skirt and matching bow on her head. It's easy to see why mom and dad are smitten.
In a related story, Kenya Moore melts hearts posting a close-up photo of her lovely baby daughter Brooklyn on Instagram.
Please fill in your e-mail so we can share with you our top stories!