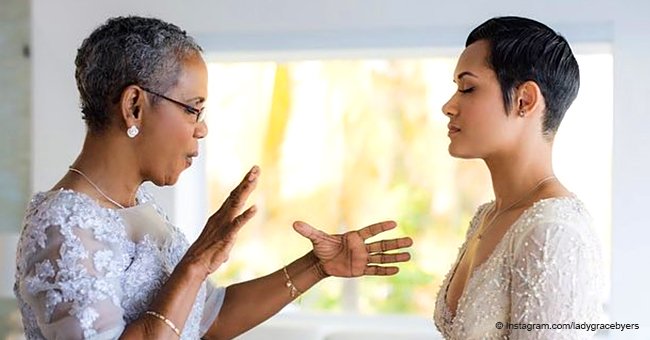 Trai Byers' Wife Grace Melts Hearts with Moving Tribute to Mom on Her 68th Birthday

Empire's Grace Byers melted hearts when she penned a loving tribute to her mother for her mom's 68th birthday. She took to Instagram, shown below, to honor her mum.
Trai Byer's wife, Grace, held nothing back when she took to social media to wish her mother happy birthday. She penned a beautiful message on Instagram.
The actress began her tribute with a few words to credit her mother's prayers for her existence and safety. She wrote:
"I am 100% sure that were it not for my mother's fervent covering, I would not be here today. "
She continued her message saying her earliest memories of her mother involved prayer. Grace revealed that her mom prayed for her all the time.
"Before I was even a thought in her mind, my mother prayed for me. When I was in her womb, when I was a child, when I was a teenager, when I entered adulthood, when I got married - my mother prayed for me. I remember the late nights, early mornings and every prayer in between growing up. And even now, she prays for us every day of every week, of every month," wrote the doting daughter.
Her loving message ended with a small quote from the bible and a declaration of her love. She then added a quick birthday message at the end writing:
"This is the woman we get to call Mommy. As Proverbs 31 states, today and always, we arise and call her blessed. Happy 68th Birthday, Mom. We love you to the moon + back."
Fans could not get enough of the doting moment. Many agreed that a mother who prays is remarkable and irreplaceable.
"Nothing like a praying mom!!! Happy Birthday to your beautiful mother may she be blessed with many many more," commented one fan.
It's not the first time Grace has penned a stunning tribute to a loved one. Last year she took to social media to wish her husband a happy 35th birthday with a heartwarming message.
Please fill in your e-mail so we can share with you our top stories!