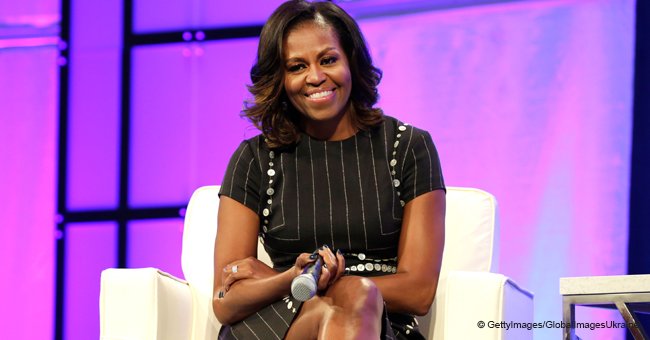 Michelle Obama Stuns in Flowy Orange Outfit after She Surprised Fans with Blue Manicure

Fans are stunned by Michelle Obama's flowy and bold orange ensemble just after she blew everyone away with her blue manicure.
Since leaving the White House, Michelle Obama has donned some daring looks. She nearly shut down the internet during her book tour when she donned a pair of Balenciaga boots and again during an interview with Sarah Jessica Parker in a yellow dress and a pair of sparkly neon yellow thigh-high boots.
Obama's stylist Meredith Koop is helping her keep the ball rolling with more daring designer fashion moments. This time Obama stunned fans with a design from an emerging designer.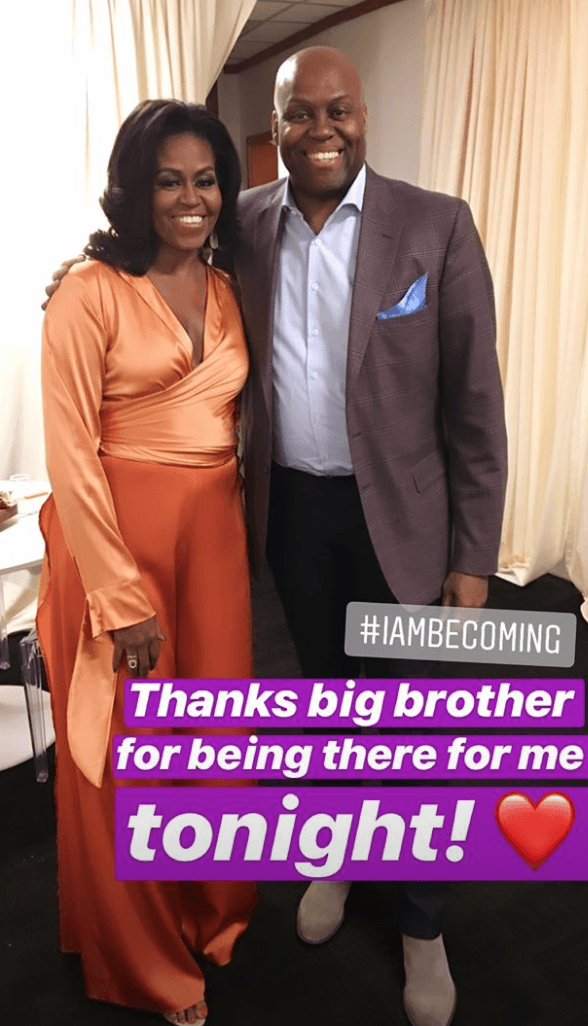 Michelle Obama in a stunning flowy Orange suit | Source: Instagram/Michelle Obama/stories
She recently donned a bright orange pair of non-sheer trousers. The pants were paired with a satin finish wrap top with ties on the sleeves and a long train cascading down the back in the same orange shade as the pants.
She wore the outfit for a book tour stop in Texas and revealed it was designed by an up-and-comer, Felicia Noel. Noel's New York-based label Fe Noel focuses on empowering women especially women of color.
Her collection strives to shift the ideas of traditional Eurocentric narrative of Renaissance art and put black women in a place of power. Noel's point-of-view aligns perfectly with the way Obama strives to present herself.
"She contacted us after a few weeks and requested a custom look for Mrs. O's book tour, one based off of our 'Liz' top and rust colored sheer pants," Noel recalls Koop contacting her about a look for Obama. "We collaborated with Mrs. O's personal tailor, who has the former first lady's exact body replicated in mannequin form."
"This meant so much to my team and my family," Noel says of the moment Obama wore her design. "In fact, the news traveled so quickly to the small island of Grenada and specifically to my grandmother, the matriarch of our family. I've long admired Meredith [Koop] and her ability to push the envelope with Mrs. O's style. It was a personal goal to see her wear Fe Noel," she added. "I'm now woven into history at a time when I am and my brand are 'Becoming' too!"
Obama's evolving style and bold choices have fans eagerly waiting for her next appearance. Even her manicure is getting into the mix.
To promote her memoir, Becoming, the former first lady devoted her Instagram Stories to answering questions from readers on Wednesday. However, fans were more focused on her classic black suit and surprising bright blue nail polish than her answers.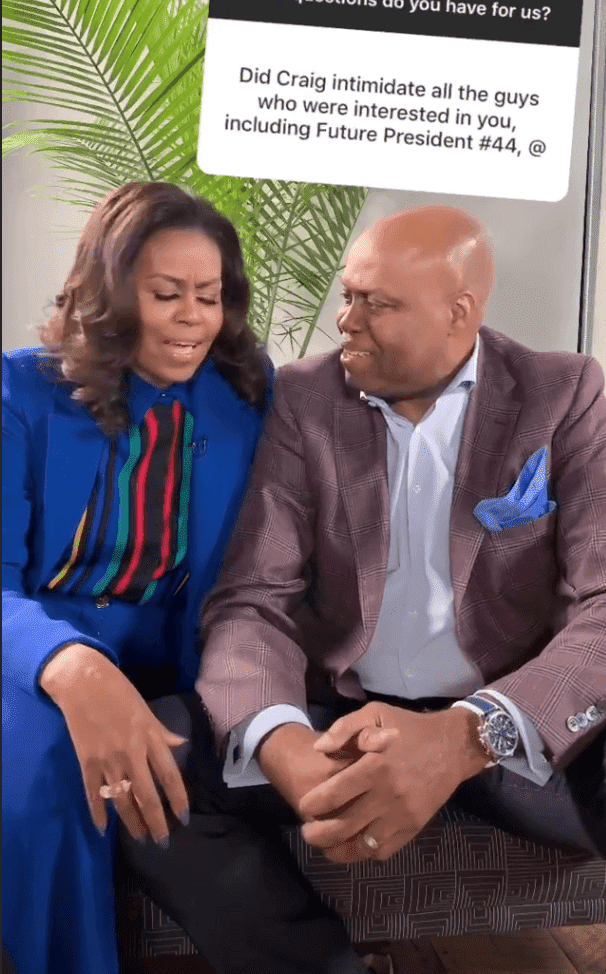 Michelle Obama stunned fans with a blue manicure | Source: Instagram/Michelle Obama/stories
It's not the first time she has opted for blue nail polish. She recently named O.P.I.'s sky-blue "Dreams Need Clara-fication" shade as "one of my go-to nail colors." She also told fans:
"I always try to remember that I'll be the best me that I can be if I prioritize myself."
Please fill in your e-mail so we can share with you our top stories!