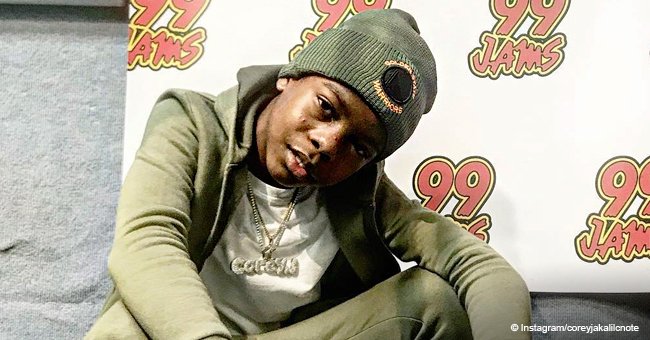 12-Year-Old Rapper Charged with Felony for Allegedly Selling CDs at a Georgia Mall

A 12-year-old aspiring rapper is facing a felony charge after he got in trouble with a police officer at the mall for selling some CDs.
Corey Jackson, 12, faces an obstruction felony charge after he was apprehended by an officer at the food court of the Cumberland Mall. He was grabbed by an officer and threatened with arrest, with the police report stating that he's been in trouble for selling CDs in the mall twice.
His attorney, Mawuli Davis, denied this in court last Tuesday, saying that his client was only at the mall to meet other aspiring artists.
"When he was there, he was not selling any c.d.s or doing anything that would have been prohibited he was there meeting other artists."
Jackson's attorney hopes the case will be thrown out, or else they'll have to go to trial for something a 12-year-old child allegedly did.
SOMETHING AGAINST ASPIRING RAPPERS?
It's not the first time aspiring rappers have had "hiccups" with law enforcement officers, as a 21-year-old rapper named Willie McCoy was shot by six California cops while he was peacefully sleeping in his car.
Willie was shot to death by six cops who claimed they were defending themselves. However, it turned out he was sleeping inside his car and woke up to gunshots aimed at him. He died in his car.
The rapper was seen with a handgun on his lap, and the Vallejo police were informed because of a Taco Bell employee who was concerned about the man who seemed to be hiding in a silver Mercedes and parked in the chain's drive-thru lane.
McCoy was unresponsive and they spotted the handgun on his lap. When he began to move without keeping his hands visible, the officers shot at the man for "fear of their safety."
Willie's brother Marc, claims that his brother was most likely surprised that a group of police surrounded him, and if the police asked him to get out of the vehicle and not shoot him instantly, he would still be alive.
"Police are trained to shoot first and hurt you first. They do not respect black people. Even when they have a person subdued and their life is not in danger, they continue to be blatantly physically disrespectful. That is just accepted in America."
As for what the police said, the cops allegedly gave McCoy several chances to surrender, but he didn't.
Please fill in your e-mail so we can share with you our top stories!