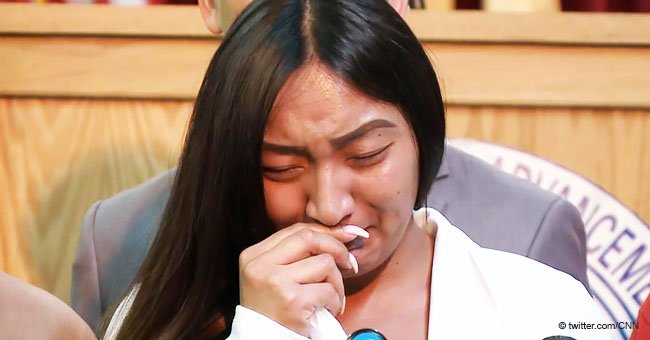 Stephon Clark's Fiancée Breaks Down in Tears as She Learns Cops Would Not Be Charged in His Death
Stephon Clark's fiancée has reacted to the news that the DA will not be bringing charges against the Policemen who shot him.
Nearly a year ago, Stephon Clark died in his grandparents' backyard, the victim of a police shooting.
To the distress of his family and fiancée, Salena Manni, Sacramento County District Attorney Anne Marie Schubert has revealed that she will not be bringing charges against the two officers involved in his death.
"It's not about anything that happened before thatIt's about the officers who murdered him."
ANOTHER UNARMED BLACK MAN SHOT BY POLICE
Clark had been shot by two police officers, Terrance Mercadal and Jared Robinet, who fired 20 rounds at him.
An examination of the body cam footage apparently showed the man reaching for "something" which justified the shooting. Unfortunately for Clark, he had reached for his cell phone.
Manni has expressed her anger at the DA's speech that had vilified her fiancée.
VILLIFYING THE VICTIM
Manni objected to Schubert revealing to the public that Clark had a history of domestic abuse and had drugs in his system at the time of his death.
The Police had also discovered that Clark had been researching the most effective way to commit suicide on the Internet shortly before his death.
CLARK HAD BEEN ON A RAMPAGE
Schubert said that physical evidence revealed that Clark was the vandal the policemen were chasing and that he has broken the windows on three vehicles, and smashed an elderly man's sliding glass patio door.
CLARK'S FAMILY IS SUING FOR $20 MILLION
Manni has expressed her anger at the DA's speech that had vilified her fiancée. She pointed out that the issue was not Clark's past, but the policemen's actions:
Clark's mother, SeQuette Clark, has declared that the family will continue to fight for justice for her son and has already filed a $20 million wrongful death lawsuit.
One of the officers who shot Clark is black and the other is white. Investigators analyzed footage captured by the officers' body cameras, surveillance footage, helicopter footage, 911 dispatch recordings, photographs and witness testimonies before considering the shooting justifiable.
THE STEPHON CLARK SHOOTING
On March 18, 2018, a 22-year-old African American man named Stephon Clark was shot and killed by two officers of the Sacramento Police Department in his grandparent's backyard.
The two officers were pursuing Clark who was suspected of acts of vandalism. They caught up with him and fired 20 rounds at him because they believed he had reached for a gun.
Clark was unarmed, and what officers had thought was a gun was, in fact, his cell phone. The father of two was shot eight times, including six times in the back. The police officer involved in the shooting have not been charged.
In a related story, new details have been released about the death of 22-year-old police officer Natalie Corona.
Please fill in your e-mail so we can share with you our top stories!