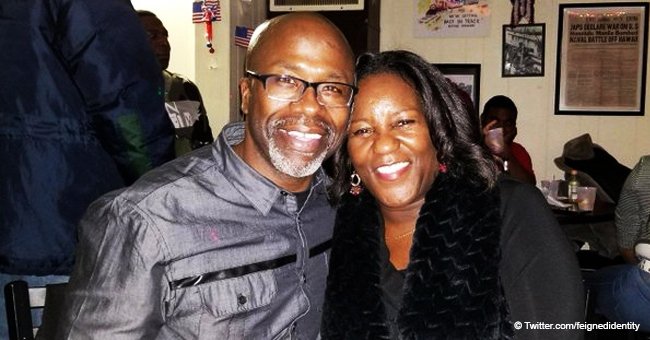 Widower, Daughter who Claimed Panhandler Killed His Wife Arrested on Suspicion of Murder
The husband and stepdaughter of a murdered woman were arrested for her death three months after they claimed she was stabbed to death by a panhandler.
In a shocking turnabout, the husband and the stepdaughter of a Maryland woman supposedly murdered by a panhandler have been arrested by the Police.
Widower Keith Smith, 52, and his daughter, Valeria, 28, were arrested by the Texas State Police while trying to exit the country through the U.S.-Mexico border.
"The information and evidence points it wasn't a panhandler. People take advantage of Baltimore. We want to make sure the truth comes out and justice is done."
THE SHOCKING DEATH OF A "GOOD SAMARITAN"
In December 2018 the news broke that Jacquelyn Smith had been knifed to death in Baltimore after stopping to give money to a woman standing with her baby in the rain.
At that moment a man supposedly approached the car and tried to take Jaquelyn's wallet, stabbed her and ran away with the woman.
Baltimore Police Commissioner Michael Harrison announced that first-degree murder charges had been laid against Keith and Valeria Smith.
A LIE BLAMING THE HOMELESS
After Jacquelyn's death, Keith gave interviews on national media and lobbied the city to pass legislation to prohibit panhandling at city intersections.
He wanted the new law to be named for his wife so that her tragic death would have meaning - but it was all a lie.
INVESTIGATORS DISCOVER THE TRUTH
But something didn't sound right to the police investigators who started digging into the pair's story and came to the conclusion that Keith and his daughter had purposefully lied after they murdered Jacquelyn in cold blood.
FATHER AND DAUGHTER CHARGED WITH 1ST DEGREE MURDER
Baltimore Police Commissioner Michael Harrison announced that first-degree murder charges had been laid against Keith and Valeria Smith.
He explained that the Smiths had attempted to use the fear people have of the homeless to divert attention from their crime.
Harrison did not reveal the pair's motivation for the killing, nor the specific roles attributed to the father-daughter killers. The investigation is on-going and further developments will be revealed.
COLLEGE STUDENT MURDERS GIRLFRIEND THEN GOES ON A DATE
Melvin Rowland shot his 21-year-old ex-girlfriend Lauren McCluskey, and left her dead in a parking lot, before heading out on a date with another woman.
McCluskey was a Communications student and ran track at the University of Utah, where she met Rowland.
Rowland approached McCluskey in a parking lot near her dorm, dragged her out of sight and he shot her. When police started closing in on him, Rowland committed suicide.
In a related story, the heartbreaking video of a little girl praising her dad just weeks before he murdered her.
It wasn't immediately known if Keith and Valeria had attorneys who could comment for them.
Please fill in your e-mail so we can share with you our top stories!