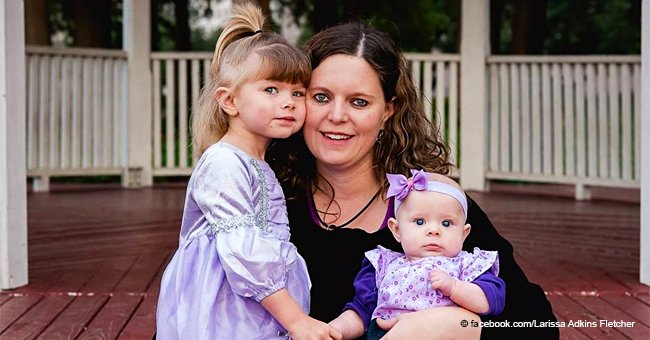 The Story of Woman Who Gave Birth to Second Baby with Husband a Year after He Died
Even though John Fletcher passed away over a year ago, he became a father again to a beautiful baby girl with his wife, Larissa.
Larissa Fletcher lost John to esophageal cancer in October 2016. But before he died, he and Larissa made plans together to have a second child.
The 38-year-old pediatrician, Larissa, always loved babies and her hopes and dreams for more children came to a halt when they had to face John's sickness together. The couple already had a one-year-old daughter.
At the onset of his cancer, they began their significant discussions about the new future they were facing. John wished he'd made a better financial plan for them, and it came up that Larissa had wanted more kids. So on the week before chemotherapy began, John went to The Family Fertility Center at the Texas Children's Pavilion for Women and froze his sperm. Larissa said of that time,
"The worst week of our lives, the week between diagnoses and treatment starting, he went and banked sperm. In that worst, terrible week, he was thinking of the future."
His healing journey began on a positive note, responding well to the treatment. They even made plans to travel to Maui, where they got married, to celebrate. And Larissa remembered his response was, "No, no, no you'll be pregnant at that point!"
As John's health took a turn for the worse, the couple found rest from their struggles with good news from the fertility clinic reporting they had five healthy embryos. After a good fight, John died on October 21, 2016.
Fueled by their love and promises to each other, Larissa picked herself up and made plans to push through with IVF. She was comforted by sticking to their plans. And by October 2017, one year after John's death, Larissa became pregnant.
Larissa decided to share the news with her family and friends through a video knowing it was a very emotional time and she wanted to include John in it somehow, sharing with them how it was something they had planned for together. There signs that she felt John sent her, to make her feel less alone on her journey.
She said that as she prepared for her scheduled C-section, their wedding song, "What a Wonderful World" played. It was coincidentally followed by the song, "Ain't No Mountain High Enough" which John loved singing to their daughter, Emma.
She shares her love for her husband with her daughters Emma and Ellie by making scrapbooks for them filled with their family's photos and stories. She also wants them to know how much he loved them.
Many women, like Larissa, have been blessed with children through IVF, and are coming forward, courageously sharing their stories of trials and triumphs.
One such mom is Michelle Obama, who recently shared her stories of pregnancy loss and success with In vitro fertilization in their family giving her and the former president, Malia, and Sasha.
Please fill in your e-mail so we can share with you our top stories!