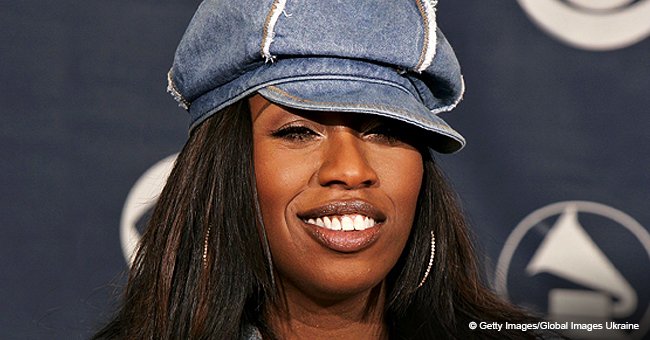 Missy Elliott Makes Jaws Drop with Her Flowing Natural Hair in Gorgeous New Video
Missy Elliot has a lot going on in her professional life, but no matter what, she's always looking flawless. The rapper recently shared a clip rocking her natural hair, and fans can't stop gushing about her effortless style.
Missy "Misdemeanor" Elliot is not only one of the most iconic female rappers of the industry; she's also a fashion icon on her own accord.
The 47-year-old is known for her versatility when it comes to clothes and hairstyles, and she has rocked a wide range of colors, textures, and length on her naturally dark hair. However, in her most recent Instagram clip, Elliot decided to give fans a glimpse on her voluminous curls parted on the side, as she also showed off her flawless makeup and diamond earrings.
"Ooooh and I like it...SANG #Debarge," Elliot captioned the post, referencing the song in the background of her short clip.
Fans took over the comment section to gush about Missy's style, with some even praising the MC for "aging backward." "That Hair and that Face…LIFE" wrote one user.
Another added, "I swear you never age at all!! Gorgeous!" and a third one chimed in to say, "Omgosh!! Your crown is spectacular Missy!! you should wear your natural more often!!"
Missy started the year with the right foot by getting inducted on the Songwriters Hall of Fame. Her feat is historical because she's the first female hip hop artist to join, following Jay-Z, who was the first male hip hop artist to get inducted three years ago.
"I want to CONGRATULATE all the AMAZING songwriters who have been inducted into the 2019 'Song Writers Hall of Fame,'" Elliott tweeted after the honor was announced. "Also those who were nominated because their body of work is AMAZING. I AM SO HUMBLY GRATEFUL to now be inducted also."
Elliot and fellow 2019 inductees Dallas Austin, Tom T. Hall, John Prine, Jack Tempchin and Yusuf/Cat Stevens, will be officially inducted in a ceremony that will take place next June at the Marriott Marquis Hotel in New York City.
Nile Rodgers, chairman of the Songwriters Hall of Fame Chairman, announced the honor on CBS "This Morning" and stated that Elliot was "one of his favorite writers of all time." He added:
"It's amazing. To me, it's important to have equality. I've written with a lot of women songwriters, but not nearly enough. That's sort of my secret goal -- I want to have more women songwriters."
Several stars took to social media to congratulate Missy on the honor, including John Legend, Lin Manuel Miranda, Lizzo, Bruno Mars and Fantasia, who called Elliot a "living legend."
Elliot is allegedly working on new music, and while fans wait for it, the rapper will be joining an arraign of stars at a new music festival created by Pharrell, which will take place in Virginia Beach next April.
The festival, titled "Something In The Water," will feature performances from Elliot, Travis Scott, Janelle Monae, J Balvin, SZA, Lil Uzi Vert, Diplo, Anderson Paak and the Free Nationals, Kaytranada, Jhené Aiko, Maggie Rogers, Mac DeMarco, and Jaden Smith.
Please fill in your e-mail so we can share with you our top stories!