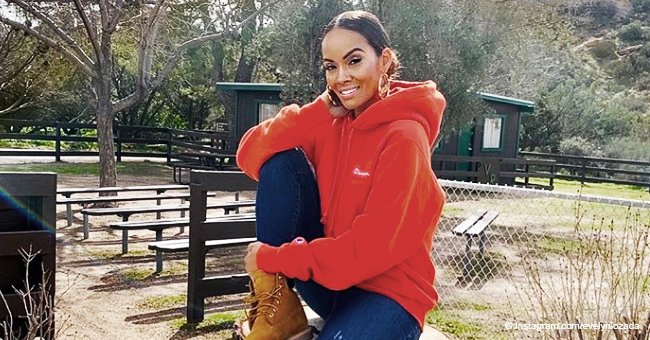 Evelyn Lozada Has Fans Raving about Her 4-Year-Old Son in Recent Photo
"Basketball Wives" star Evelyn Lozada shared a recent photo of her cute 4-year-old Carl Leo Crawford and fans are loving it.
Evelyn Lozada is a doting mom of two, and she has recently created an Instagram account for her youngest son, Carl Leo Crawford.
Of course, that hasn't stopped her from posting the cutest photos of the gorgeous toddler on her own account.
"I'm just a kid taking his first swing at life.⚾️"
A TINY BASEBALL STAR
It looks as if Carl has a natural love of sports, inherited from his dad, former professional baseball left fielder, Carl Crawford
Crawford and Lozada became engaged in 2013, and in 2014 they welcomed their first child together, Carl Jr.
Even though Carl has only 28 shared posts, he already has 2,015 Instagram followers.
MOTHERHOOD THE SECOND TIME AROUND
For Lozada, it was her second experience with motherhood. She was already the mom of Shaniece Hairston, 25, who was born when Lozada was 18.
"I'm excited about being a mommy all over again. This is something I've been wanting for years and I can't believe it's finally happening."
CARL JR. IS CRAZY ABOUT BASEBALL
Just like his dad, who was nicknamed "The Perfect Storm," Carl Jr. is crazy about baseball, and he looks set to follow in his footsteps. And Lozada is determined to chronicle the "career" of this budding star from the word "go."
PROUD MOM CREATED INSTAGRAM PAGE
Lozada has created a special Instagram page for her Little League sports star and captioned the first post:
"You're the perfect catch. Follow @therealcarlleocrawford to follow his beautiful journey."
Even though Carl has only 28 shared posts, he already has 2,015 Instagram followers. Not bad for a 4-year-old with a mean swing.
CARL JR IS A LEFTY PLAYER JUST LIKE FAMOUS DAD
Evelyn Lozada shared a clip of her 4-year-old son Carl training his swing in Little League.
In the clip, Carl can be seen standing with the bat on his shoulder, then taking a swing and hitting the ball off the tee to general applause and cheers from his proud mom.
Just like his father Carl Crawford, Carl Jr. is a leftie and may prove to be just as devastating an opponent as his dad.
In a related story, Evelyn Lozada & ex Carl Crawford melted hearts after reuniting to celebrate their son's achievement
.
Please fill in your e-mail so we can share with you our top stories!