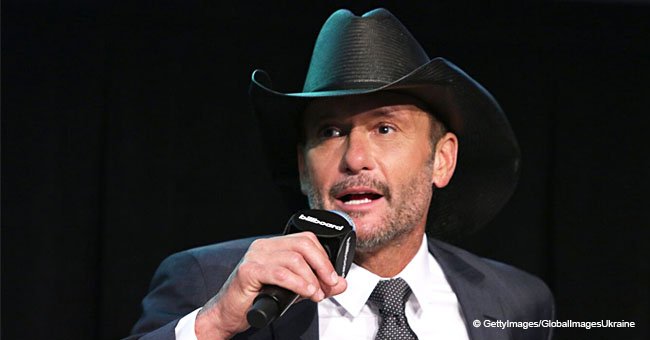 Tim McGraw Has Strict Rules for Anyone Who Wants to Date His Daughters
The singer and actor has declared seven rules for anyone who wants to take his three teenage daughters on a date and Tim is sticking to them.
Tim McGraw in an interview spoke about his career, marriage but most importantly, he spoke about what it is like being a father to three teenage daughters: Audrey, Maggie, and Gracie.
When asked how it felt to be a father to three daughters he jokingly said:
"there's a lot of estrogen in my house, for sure."
Making reference to one time the family was preparing for a New York Time Magazine outing, he described it as chaos!
The husband to the famous singer; Faith Hill ,who recently lost her father said he was so overwhelmed by all the makeup and clothes been thrown around by the girls that he decided it would be best he got dressed after they were done.
This did not deter the girls from wearing him out with questions, while he was making up for the event; his daughters were asking which earrings will match their outfits the most.
He said their mum, Faith Hill had to step and tell them,
"leave your father alone, he's getting his makeup on!"
Don't be deceived though, Tim completely adores his girls. They, Tim and Faith have tried to give the girls close to a normal life as they can get. They shielded them from the spotlight.
In recent times though the girls have been coming out, going for red carpet events with their parents. But this new freedom, definitely comes at a price.
Tim McGraw has a list of rules for anyone who would want to take his gorgeous daughters out.
He stated his rules as:
They have to come to the house

They have to come to meet me

They have to pick them up

They have to come inside

They have to talk to me

They have to talk to their mum

No honking and no running out.
It may seem all funny but the Father of three said he is not scared of intimidating any potential suitor for the girls. He joked that the first time a person came to take the daughter on a date, he coincidentally was chopping meat and had blood all over him.
Having a butcher knife in his hand, he opened the door, although he did not do it intentionally, it served its purpose, the poor kid.
Tim McGraw is known for being a family man, he and his lovely wife, Faith Hill have been together for over two decades, the two met while Faith was already engaged to the producer, Scott Hicks. She called her engagement off with him when she realized the chemistry between her and Tim was undeniable. He proposed to her in a trailer, backstage and she said yes.
The two had a surprise wedding for their family and friends and they have been together ever since. They have gone on several tours together and recently released a duet album titled- The Rest of Our Life.
Please fill in your e-mail so we can share with you our top stories!