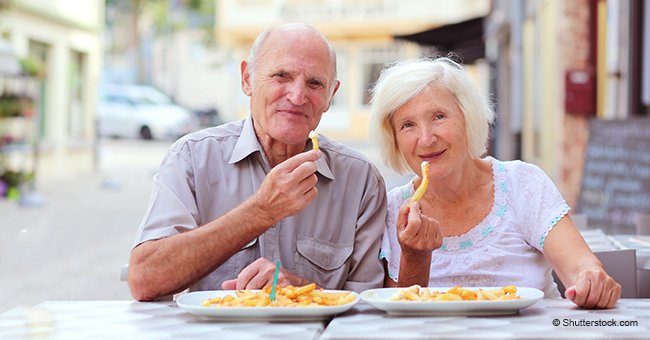 Everyone thought man's elderly wife was not eating
When this old couple said that they shared everything they really meant it, but this was very difficult for others to understand, and it all ended up in a hilarious situation.
For some couples, love does last forever, but as years go by and they grow old together, their relationship evolves into something that it is hard for younger people to understand, and this episode just proves it.
The people around this couple couldn't help it but make the wrong assumptions about what was going on with them, and this left the elderly woman with no alternative but to make an embarrassing revelation.
An elderly couple walks into a fast food restaurant. They order one hamburger, one order of fries and one drink.
The old man unwraps the plain hamburger and carefully cuts it in half. He places one half in front of his wife. He then carefully counts out the fries, dividing them into two piles and neatly placing one pile in front of his wife.
He takes a sip of the drink; his wife takes a sip and then sets the cup down between them.
As he begins to eat his few bites of hamburger, the people around them keep looking over and whispering, "That poor old couple – all they can afford is one meal for the two of them."
As the man begins to eat his fries a young man comes to the table. He politely offers to buy another meal for the old couple.
The old man replies that they're just fine – they're just used to sharing everything.
The surrounding people noticed the little old lady hadn't eaten a bite. She sits there watching her husband eat and occasionally taking turns sipping the drink.
Again the young man comes over and begs them to let him buy another meal for them.
This time the old woman says, "No, thank you, we are used to sharing everything."
As the old man finishes and wipes his face neatly with the napkin, the young man again comes over to the little old lady who had yet to eat a single bite of food and asks 'May I ask what is it you are waiting for?'
The old woman answers… "THE TEETH."
But even when an old man and woman have lost their soul mate it doesn't mean that they have to live alone until the end of their lives. Luckily for some, they find love in the final years.
Of course, falling in love when you are very old can have its own particular set of difficulties, and becoming forgetful is one of them. See what happened to this old couple the morning after they got engaged.
Please fill in your e-mail so we can share with you our top stories!