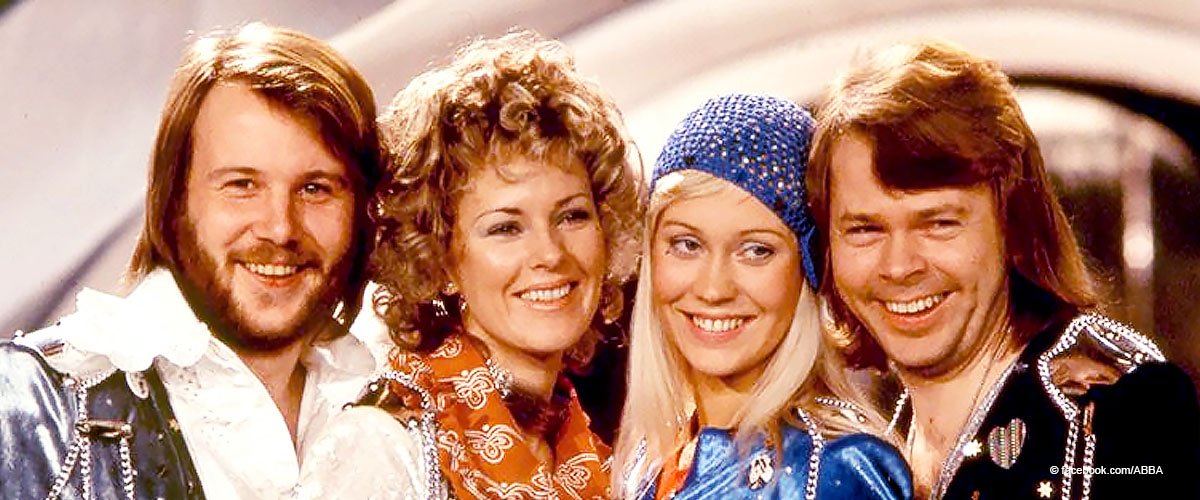 ABBA: The 70's Band That Got Caught in Whirlwind of Passion and Tragedy at the Peak of Their Fame

Now that the Swedish hitmakers have returned to the recording studio after more than 35 years, with their popularity on the rise because of the latest "Mamma Mia" film, it is time to look back on their story.
ABBA was active from 1972 to 1982, and it was formed by two couples that starred in what seemed like a fairy tale but which eventually turned into more of a nightmare that forced them to break up the band, until now.
Agnetha Fältskog, Björn Ulvaeus, Benny Andersson, and Frida Lyngstad will be releasing new material at some point of 2019, and a virtual tour featuring their holograms, called "Abbatars" will also happen.
THE DREAM COMES TO AN END
But what happened to these pop stars that made them call quits all of a sudden after having become music legends? The first thing to point out will be the end of their respective romantic relationships, which took a toll in their professional lives.
Andersson and Lyngstad got married in 1978 at the peak of the band's fame, but the marriage only lasted for two years, and by 1981 they had finalized their divorce.
Fältskog and Ulvaeus married in 1971, just before the band took off, but they took separate ways in 1979 after having two children together.
While all members of the band initially agreed that the show had to go on despite what happened in their personal lives, it was evident soon that it wasn't going to work with two recently divorced couples.
THEIR LIVES AFTER ABBA
In 2013, Fältskog released a solo album, and she promoted it by performing live for the first time in 25 years in London. The singer used the opportunity to address the emotional and psychological toll her ABBA years had on her.
"I have been described as a very mysterious human being and that hurts a little bit, because it's not like that at all. I'm very earth-grounded and very normal. I just like to stay at home," she said at the time about her reputation of being reclusive.
"Maybe I was a recluse for some years. I was so tired once Abba was over and just wanted to be calm and with my children," she conceded when interviewed by Daily Mail that same year.
"I married, was in Abba, had my children, divorced, all in ten years. I wonder how I managed it, but I was young," she added.
In a somber turn of event,s Fältskog entered into a questionable relationship with a truck driver that had been stalking her for so long that she ended up agreeing to meet him.
This unusual encounter developed into a romance that went on from 1997 to 1999, but it ended in one of the worst ways possible, with a restraining order been issued against the man.
Following an emergency landin,g the band had to endure in 1979 while touring the US, Fältskog developed a serious fear of flying, prompting her to avoid planes altogether from then own.
Ironically, in 1983, as she traveled on a bus for her solo tour in Sweden, the vehicle had an accident and it flipped. Fortunately, she suffered no harm.
As of Lyngstan, she married royal Heinrich Ruzo Reuss de Plan, which earned her the title of Princess in 1992. But the marriage was cut short after seven years, with Heinrich passing away from cancer in 1999.
"MAMMA MIA" AND THE RETURN OF ABBA
While the band had its final concert on December 11, 1982, at the UK, Anderson and Ulvaeus kept working together developing pieces for musical theater.
In 1999 they had they greatest success with the "Mamma Mia" musical, based on ABBA's biggest hits, which was later adapted into a 2008 film starring Meryl Streep, which got a sequel in 2018.
But even as he remained active all these years, Anderson health's was deteriorating due to his strong addiction to alcohol. In 2011 he revealed that he had let that addiction behind after seeking help.
Ulvaeus, on the other hand, has been suffering from a condition during the last 10 years that has caused memory loss for him. In 2008 he admitted that there were many moments from his ABBA years that he no longer remembers.
When the first "Mamma Mia" film premiered in Stockholm in 2008, the four original members of the band met once again and even took a picture together with the cast of the movie.
With Streep mostly absent from the 2018 film sequel, singer Cher, who also has a minor appearance in the movie, stole the show, and the fact that she went on to work on two albums of ABBA covers might have inspired the band to test the grounds by making a comeback.
In April 2018, the band took to its official Instagram account to reveal that, "after some 35 years, it could be fun to join forces again and go into the recording studio."
Please fill in your e-mail so we can share with you our top stories!