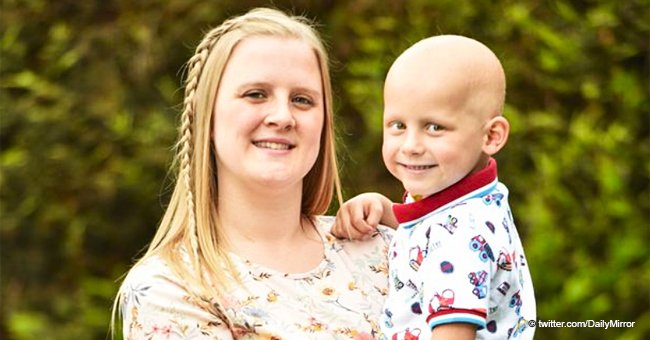 Mom of Boy, 6, Who Died from Cancer Admits to Stealing $130K from Son's Treatment Fund for Gambling
Mother of Toby Nye, the six-year-old "Leeds United" fan who passed away early this year, has been brought before the court for stealing £100K ($130K) out of her son's cancer funds.
Stacey Worsley, who was arraigned before the Leeds Crown Court on March 4, 2019, has pleaded guilty for using about $130K of the cancer funds raised for her late 6-year-old son on gambling.
Judging by a similar case of a woman who was arrested last year for lying to her husband and close relatives that she had cancer just to get money from them, many people called out Stacey for lying about her son's health to get money for her gambling.
In 2017, Toby Nye was diagnosed with a type of cancer called Neuroblastoma when he clocked 4. The treatment of this uncommon type of cancer was not affordable for the family and this led them to reach out to people for the £200,000 ($460K) they needed. They were able to raise a considerable amount with the help of the "Leeds United" team members.
Toby began treatment in 2017, and his first post-treatment tests showed that he no longer had cancer. Sadly, shortly after, the boy was diagnosed with a brain tumor. This made him critically ill and eventually led to his death at the age of 6.
Many people have attributed Toby Nye's death to Stacey's abuse of his cancer funds that was in her care. They argued that she was an irresponsible mother and that this led to her son's death. However, a statement by a spokesperson of the "West Yorkshire Police" negated this assumption.
According to the Yorkshire Evening Post, the spokesperson revealed that Stacey's abuse of the funds had nothing to do with her son's death. He added that they have retrieved all the money from online gambling companies.
Stacey Worsley, who appeared before the court for the first time on March 4, admitted only to £100,000 ($130K) of the £140,700 ($185K) she was accused of stealing from her son's trust fund. She then pleaded guilty to the fraud charge.
Ruling over the case, Judge Geoffrey Mason QC found Worsley's act in breach of Section 4 of the Fraud Act, 2006. After the first hearing, the court adjourned the case for a probation service report.
Worsley has been granted bail till the court reconvenes on March 29.
Please fill in your e-mail so we can share with you our top stories!