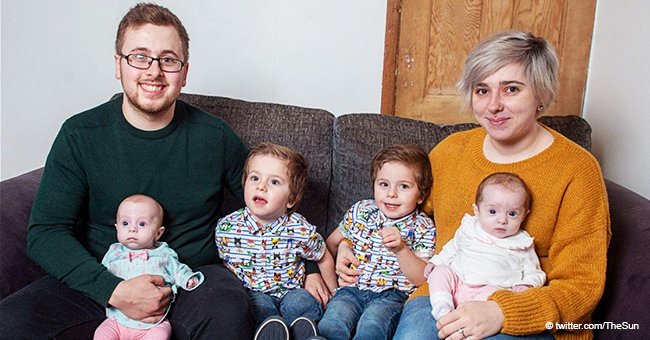 Stunned Young Couple Reveals What It's like to Have Surprise Twins for the Second Time
A young couple gets blessed with four kids, two sets of twins in the early stages of their marriage, shares what it feels like to have such a large family at a young age.
The blessing that life brings to us is sometimes overwhelming and breathtaking, and sometimes knock us off our feet leaving us to wonder, "How did this come my way?"
23-year-old Jessica Phoenix and her husband of the same age, Liam McMahon, were both stunned after getting pregnant and delivering a set of twins for the second time.
The first set, twin boys, Harry and Elijah, were the early fruits of their relationship since they were just six months into it when the couple learned of their soon delivery. Just about two years after the boys' delivery, Jessica and Liam learned they were having another set of twins - this time two lovely daughters.
The girls, Phoebe and Aria, arrived in September making the family of four turns into six just after two issues. Interestingly, the couple is happy with their large family very early in life and said it would not affect how they feel.
"It might not be what we had planned when we first met, but we've got our whole family done and dusted in the space of a few years,"
Jessica said.
"Two boys, two girls, two sets of twins – it's just the perfect package. We're the perfect family to me, and it feels meant to be. It was four unexpected babies, but now I wouldn't change it for the world."
Liam also gave his thought about the birth of his kids by saying;
"To think that I'm a dad of four does feel pretty crazy. People my age are usually living at home with their mum and dad, just thinking about going out or going to uni."
He further stated the motivation his kids give to him;
"Having them has made me want to do more in my life. It makes me want to make them proud."
It turns out that Jessica and Liam have a trait of twins in their families, but they never imagined having to deal with two sets, especially in the early stages of their union. The young parents are glad their boys are comfortable around the girls and are lending a helping hand.
The story of this couple brings to mind the experience of a new mother, Brooke who was surprised by the delivery of a second child when she thought labor was over.
Please fill in your e-mail so we can share with you our top stories!