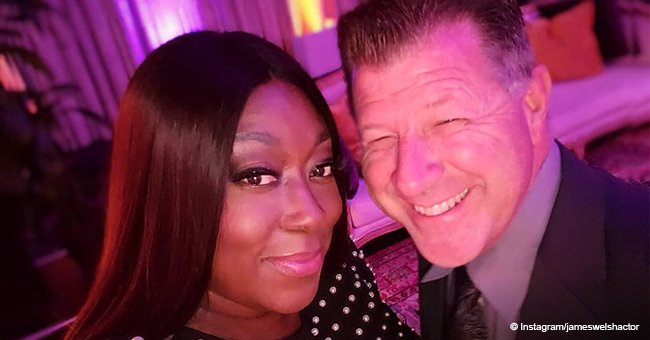 'I've Been Dating Black Men for 47 Years!' Loni Love Defended Her Decision to Date outside Her Race
Loni Love, one of the co-hosts of "The Real" set clear that she would not tolerate negative people talking about her relationship with boyfriend James Welsh.
The comedienne, who is Black, made public her relationship with her actor boyfriend, who is White, in November 2018. Unfortunately, some people who don't support interracial romance have criticized her.
In February, Loni took her time during a segment of "The Real" to talk to those negative netizens and defend herself and her loving relationship.
"I have to say this. Me being a person dating a White man – that is about compatibility, that is not about Blackness," she stated. "Because, let me tell you something, don't get it twisted. All day long I will take off my wig and put up my fist and fight for my people. Understand that!"
THE REST OF THE HOSTS' OPINIONS
Fellow host Adrienne Houghton chimed in and admitted that she didn't know how dating a White person made people "less Black." Yvette Nicole Brown, who was replacing Tamera Mowry on that episode, also shared her thoughts on the matter.
"The other thing that I can say about Black women dating White men, nobody starts there for the most part. We give a lot of chances. Listen, I have never dated outside of my race ever. I've always been down for the brown. But if y'all see me with an 'other,' I don't want to hear nothing from nobody!"
Loni couldn't agree more with Yvette and, after saying that she had been dating Black men for 47 years, she said, "this the one White man and y'all gonna try to talk? No! It's about compatibility."
EMPHASIZING THE COMPATIBILITY
The comedienne pointed out that anybody who is "prominent," choosing Serena Williams as an example, has received backlash for dating outside of their race. However, she emphasized that when it comes to love, "it's about compatibility — especially when you get in them 40s."
Despite what social media trolls might say, Loni and James' relationship grow stronger and better each passing day. In a different episode of "The Real," Loni admitted that they didn't have plans for Valentine's Day and they didn't even know if they were supposed to do something.
VALENTINE'S SURPRISE
However, James surprised her by inviting two of her friends to the same restaurant they were supposed to have dinner in a sort of double date. The proud girlfriend took to Instagram to share photos of the romantic evening they had.
Apart from that, Loni shared a slideshow in which she appeared wearing a black ensemble and red sunglasses while holding flowers and a balloon that read, "Happy Valentine's Day!" James, also wearing black, was behind her with a teddy bear and a box of chocolates.
The lady pointed out that it was their first Valentine's Day together, so James bought her "everything."
Please fill in your e-mail so we can share with you our top stories!