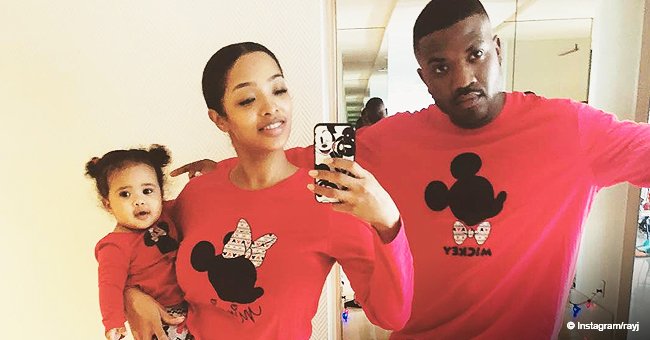 Ray J & Princess Love's Daughter Melts Hearts with Curly Head of Hair as She Tries to Talk in Video

Ray J and Princess Love's daughter Melody Norwood has amassed quite the fan base, and in a recent video where she's trying to pronounce words, the little girl has hearts melting effortlessly.
Save for a brief period last December, the "Love & Hip Hop" couple never shy away from showing off their little bundle of joy, and social media reactions are mostly in support.
On March 3, Princess brightened her Instagram page with a clip of Melody wearing a pink "I woke up this cute" onesie and looking every inch like the inscription described. Even her slightly tousled curls added to that irresistible baby charm. Melody held on to her cot while happily taking instructions from mom behind the camera.
She stayed faithful to her word, deleting every photo and video of her daughter
"Melzy, say 'da-da,'" Princess asked, prompting the little tot to repeat the word. "Say 'duck,'" she requested again, getting a close-enough attempt out of the nine-month-old.
Instagram users could not handle the cuteness and trooped to the comments section in awe of both Melody's beauty and intelligence.
"So precious and so smart." ~@_chynaberri
"This Baby been talking since she came out the [womb]."~@uncle2235
"She so cute and adorable I'm having baby fever" ~@florenciasugarsweet
"You have the world's most beautiful baby EVER & she's so smart." ~@alluring_iam
Ray J (birth name Ray Norwood Jr.) and Princess welcomed Melody on May 22, 2018, and since then, the little girl has been nothing short of a genius, shocking fans with her rapid development and undeniable beauty.
At two months old, she was already trying to say "da-da" and finally nailed it in December. She also scored her first modeling gig at six months old and proud dad Ray J couldn't help showing off on social media.
"Look at my baby @melodylovenorwood," Ray wrote, alongside one of the pictures from Melody's photo-shoot. "She's doing her first ever photoshoot by herself with @tinyimpactco – This brand has a powerful message behind it! And we are happy to support it!"
The Norwoods have never shied away from sharing their daughter with teeming fans on social media but a nasty experience three months ago almost put an end to that.
After receiving countless nasty comments from online trolls about her daughter, Princess took a drastic decision.
In a since-deleted Instagram post, Princess announced:
"The disgusting things people right [sic] under the picture of a child. I WILL NEVER POST MELODY'S PHOTO EVER AGAIN ON SOCIAL MEDIA."
She stayed faithful to her word, deleting every photo and video of her daughter up until that time. About a month later, however, in January, Princess had a rethink and resumed posting pictures of Melody, much to the joy of many of her followers.
Please fill in your e-mail so we can share with you our top stories!