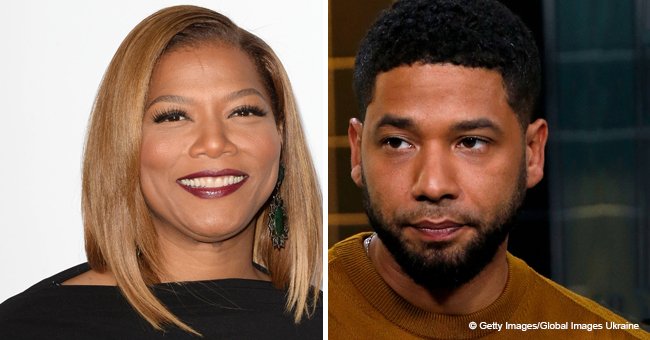 Queen Latifah Says She Supports Jussie Smollett after Alleged Hoax until She Sees Definitive Proof

Queen Latifah has declared that she will stand by Jussie Smollett until she sees conclusive evidence of his guilt.
Actress and singer Queen Latifah is willing to believe "Empire" actor Jussie Smollett is innocent until the evidence proves him guilty.
Smollett has been accused of staging a hate crime and making a false statement to the Chicago police.
"Until somebody can show me some proof otherwise, I'm going with him. Cause the guy I've seen has always seen has always been someone who cares about people, who cares about others, and who's very kind and who's always been cool and sweet."
SMOLLETT UNDER FIRE FROM FELLOW CELEBRITIES
Smollett has been under fire from many celebrities who initially supported him when his claim that he had been the victim of a hate crime was still believed.
His support has dwindled, and Queen Latifah is one of the few who is still willing to believe the singer/actor may be innocent.
"And that's just the guy I know. So until I can see some definitive proof — which I haven't seen yet — then, you know, I gotta go with him until I see otherwise."
Smollett has been charged with disorderly conduct, and for filing a false police report, a Class 4 felony.
THE HATE CRIME JUSSIE SMOLLETT REPORTED
If the accusations against Smollett prove to be true, the public anger is more than justified. Smollett, who is Black and gay, reported that he had been attacked outside his apartment building in Chicago by two white men in ski masks, who doused him with bleach and placed a noose around his neck.
Smollett reported that his attackers had spewed racist and homophobic slurs and declared: "This is MAGA country."
THE EVIDENCE THAT THE CLAIM WAS FAKE
Chicago police started investigating Smollett's attack but could find no trace of the perpetrators on the security cameras that blanketed the area. The detectives eventually approached two brothers of Nigerian origin, Olabinjo and Abimbola Osundairo, who admitted that the actor had paid them $5,000 to stage the attack.
CHARGED WITH A CLASS 4 FELONY
Smollett has been charged with disorderly conduct, and for filing a false police report, a Class 4 felony.
The actor/ singer is out on a $100,000 bond, and if convicted he can face up to three years in prison.
Sadly the young, talented man finds himself alone, and the only two people who have expressed their support publicly are Queen Latifah and Gabourey Sidibe.
WENDY WILIAMS BELIEVES JUSSIE SMOLLETT IS GUILTY
Back after a long leave of absence because of her health, Wendy Williams showed that her spirit is undaunted.
Williams started by tackling this year hottest and trickiest scandal: Jussie Smollett's alleged fake hate crime.
Williams explained that even though she knows Jussie who performed in her show in the past, she still believes he is guilty, and staged to attack to bolster his career.
In a related story, the Superintendent of the Chicago Police revealed that there was more evidence contradicting Jussie Smollett's hate crime version.
JUSSIE SMOLLETT WAS ARRESTED FOR FAKE POLICE REPORT
In a related story,
Please fill in your e-mail so we can share with you our top stories!