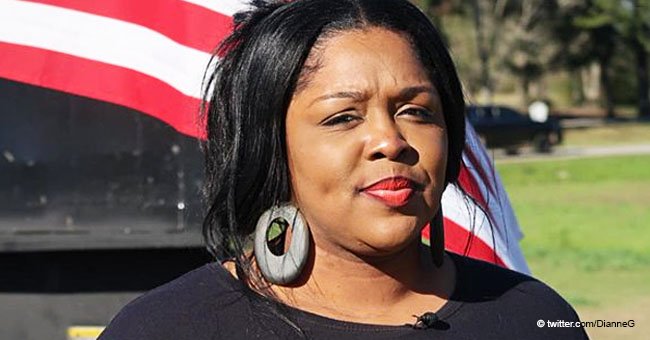 Devastated Woman Mourns 5 Relatives Who Died in Alabama Tornadoes

Makitha Griffin, a resident of East Alabama, lost five family members to the Alabama tornadoes on Sunday, with another one in the hospital, recovering.
Makitha decided to join the volunteers on Monday in the aftermath of her loss and the many losses of other families in the closely knit Lee County community. She has taken to feeding the first responders as volunteering helps keep her mind off her loss.
Griffin lost family members from both her parents' sides to a series of violent tornadoes that swept through the area.
Her uncles, Henry Stenson, 65, and Raymond Robinson Jnr, 63, both of her aunties, Florel Stenson, 63, and Tresia Robinson, 62, and her cousin, Eric Jamal Stenson, 38, were among the victims of the tornadoes.
She said their bodies were found in their home after her father and other relatives conducted a thorough search in the woods.
Griffin told CNN that one of her cousins who had also been in the house survived but suffered broken fingers, wounds from deep lacerations, and is currently receiving treatment at the hospital. She has asked that people pray for her, so she has a full recovery and the fortitude to bear the loss of both parents and their home.
President Donald Trump has commented on the incident, saying:
"Its a tragic situation but a lot of work is getting done in tackling the storm damage."
He would be visiting the state on Friday to show support for those who have lost their loved ones.
Two corporate firms have decided to help the community by paying for the funeral of all 23 victims of the tornadoes. The sheriff of Lee County thanked them, saying that it will be a relief to the relatives of the victims.
Sadly, there were children among the victims; according to the Lee County coroner, Bill Harris, four out of the 23 victims were children.
One of them was a fourth grader at Lee-Scott Academy who the head of the school said was "inquisitive and always contributed in a positive way."
Apart from the pain of losing relatives and friends, a lot of people have been displaced from their homes due to the tornadoes.
On Tuesday, officials recorded about eight people as missing, dozens were injured, and 77 people affected by the tornado have been hospitalized.
We pray for comfort for those who have lost a loved one and a speedy recovery for the injured.
Please fill in your e-mail so we can share with you our top stories!