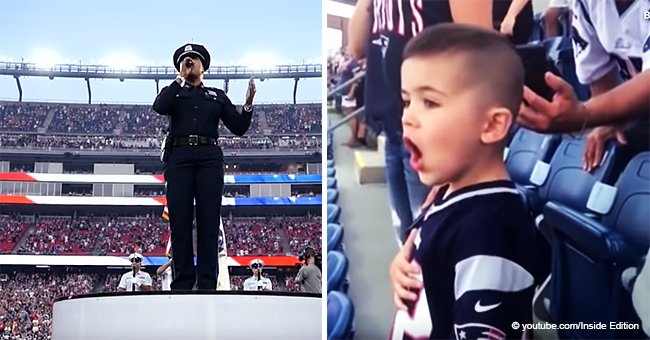 Little Boy Stole the Show at Football Game, Loudly Singing National Anthem with All His Might
A little boy stole hearts as he sang his heart out during a football game. The video went viral due to his irresistible cuteness.
Garrett Spence was not thrown off by the cameras recording as he sang the "Star-Spangled Banner" during a game between the New England Patriots and the Philadelphia Eagles.
At just three years old, Spence appeared to know a lot of the words to the song and people were amazed. At one point, a man sitting behind the little boy clapped, clearly impressed.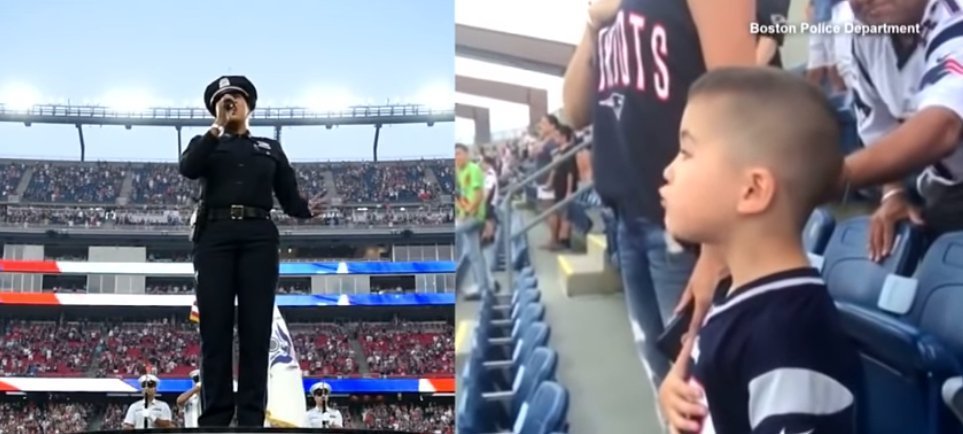 Garrett Spence at pre-season football game in August 2018 | Source: YouTube/ Inside Edition
The national anthem was actually sung by Boston police officer Kim Tavares. She received the privilege when her own video went viral. Tavares shared a carpool karaoke of herself with partner Officer Stephen McNulty.
Her vocal abilities were so good that she got the unique opportunity to sing for the big game. Tavares did not disappoint when she took the stage on the field that day.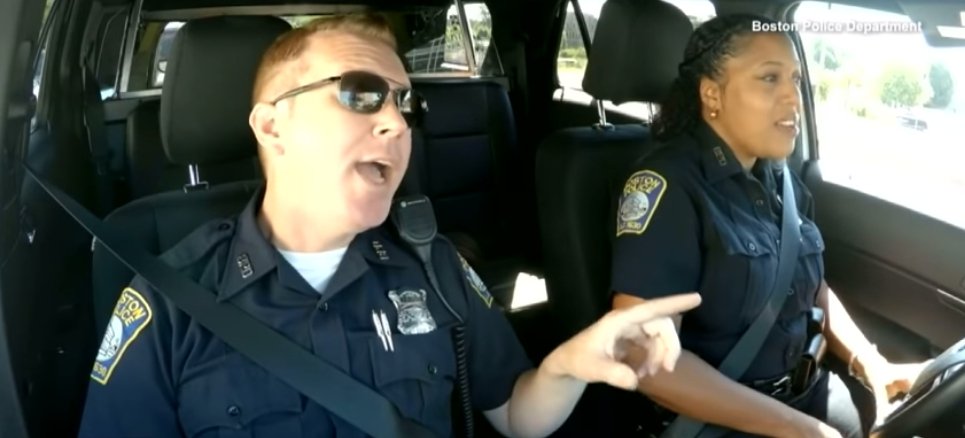 Kim Tavares singing the national anthem with Stephen McNulty | Source: YouTube/ Inside Edition
Meanwhile, little Spence also brought the wow-factor for the occasion. Donned in a Patriots jersey, the little guy had his hand on his chest as he belted out the song.
The incident reminds us of another special moment in which we observed such a strong patriotic spirit. Back in December 2017, an Army-Navy choir took away our breaths as they performed the national anthem.
With the support of several former military members in the stand, the large group stood on the snow-filled Lincoln Financial Field in Philadelphia. They comprised of the US Naval Academy Glee Club and the West Point Glee Club.
The unifying act was a testament to the power of patriotism represented by the flag and the anthem. The group's heartfelt performance further touched the hearts of listeners and will forever be remembered.
The USMA Army Black Knight and the USNA Navy Midshipmen were set to play at the time. The two teams began their rivalry back in 1890, but at the start of each game, they usually have a choir from both academies as a show of goodwill.
Please fill in your e-mail so we can share with you our top stories!