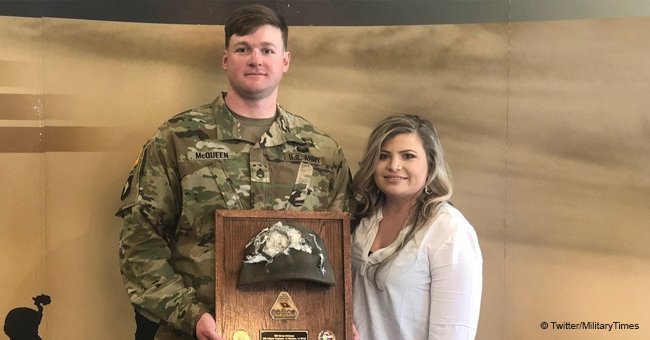 Army Staff Sergeant Who Survived Shot to the Head Finally Reunites with Helmet That Saved His Life
Army staff sergeant finally reunites with the helmet that saved him from an untimely death. It was such an emotional moment.
Staff Sgt. Bryan McQueen earlier this week found his way back to his long lost helmet which was faithful to him when he made a close call with death while on tour in Afghanistan.
The helmet was mounted on a plaque with McQueen's name and that of his unit on it and was presented to him at a Personal Protective Equipment (PPE) soldier return ceremony.
The service is usually conducted after approval from Congress is obtained to return to soldiers who got wounded in battle, the PPE belonging to them after a forensic analysis of the equipment is done.
The property return started in 2013, and since its inception, there have been 35 PPE returned to soldiers who are still in active service. The last ceremony took place in 2016, and it is being advocated that wounded veterans also get back their equipment which got damaged in the field.
In the past, PPEs go to defense researchers and protective equipment programs, where forensic analysis is carried out to improve them where necessary.
Speaking at the ceremony, McQueen admitted that he used to be a non-believer of the helmet, as he considered it a drag and too heavy to handle. He confessed that he used to say:
"I would trade my 'G1 Bill' to wear a ball cap and a plate carrier."
Now a convert, the Sergeant admitted that his perspective has changed, saying:
"This helmet works, and I'm a testament to that."
McQueen would be advocating for its use among soldiers, as he has a firsthand and personal testimony. The father of three also had present his wife, Aaron McQueen, who admitted to being shocked upon seeing the helmet. She said:
"Seeing it now makes it more shocking, and he would not have come home without it."
McQueen was shot last September towards the end of his tour. He was with his fellow soldiers and about fifty Afghans on their way to a meeting. On getting to a vulnerable choke point, gunfire from machines guns erupted around them, and the Sergeant felt what he later described as, "a horse kick to the back of his head," before landing with his face to the ground.
It was later discovered that two Afghan police officers from the group had gone rogue. They were armed with a Russian PK machine gun, and an AK-47. The two gunmen were captured by Afghan soldiers and are now facing murder charges.
McQueen had been hit by a 7.62x54mmR which struck the back of his helmet, shredding some of the material without penetrating. Although he suffered from a minor brain bleed, he is in good shape and ready to tell the story to his children and grandchildren.
Please fill in your e-mail so we can share with you our top stories!