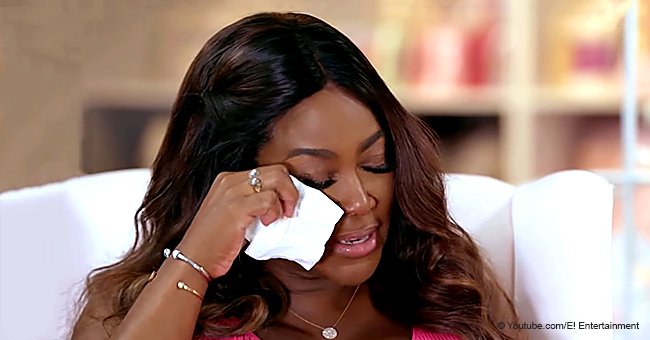 Kenya Moore Daly Breaks down in Tears While Contacting Dead Grandmother Doris on 'Hollywood Medium'
Kenya Moore has one question she wished she asked her grandmother before she passed away. She got her chance during an episode of "Hollywood Medium" where she became emotional as she learned about her grandmother's response to her question.
Kenya Moore lost her grandmother Doris Grant in 2017. And though the woman raised her since she was three, there was one thing Kenya wished she was able to ask her before she passed away. In a recent episode of "Hollywood Medium," the new mom finally got her chance and learned her grandmother's answer.
In the beginning of their interview, host Tyler Henry asked Kenya if there was anything unresolved after her grandmother's death that she would want to know today. At this point, the 48-year-old paused and tried to hold back her tears. "What does she think of my husband?" she asks.
Doris died of Alzheimer's, just a month after Kenya married her husband Marc Daly. In her tributary post after her grandmother's death, Kenya was grateful that Doris was able to meet Marc.
"I truly believe she waited until she knew that I finally found someone to love and cherish me the way she did. She could not rest until she knew I would be taken care of by someone who deserved me."
Kenya recalled the day her grandmother met Marc and how she "lit up with so much joy that my heart became overwhelmed." She knew then that her grandmother approved of him and described it as "the happiest day of my life."
Almost two years into her marriage and Kenya still thinks a lot about her grandmother and what she would have thought of her husband today. So this is exactly what she asked Tyler during their chat. Undoubtedly, Tyler confirmed that Doris was impressed with her husband.
"I don't know what this is, there's something funny," Tyler says. "She's having me talk about him – talking about his appearance, like a hunk of man… and she's like showing me a tall glass of water, and she's basically like 'yeah, him. uh huh.'"
Kenya couldn't help but laugh at what Tyler said knowing full well her grandmother was capable of saying that about Marc.
"She likes good-looking guys… she would say that all the time. He's not tall, but she would say that… a tall glass of water...she was only 4'10"."
In the midst of their conversation, Tyler gets another vibe, "something about a book they're bringing up," he says.
"They're having me talk about publishing, releasing something… for some reason they're bringing some family element into this in some way and they're putting a delay on it, like a hold on it."
And as Tyler kept talking about the book, a loud thud is heard from behind them. Turns out a book from Kenya's nursery fell -a shocking and disturbing coincidence, one would think. Watch the full clip here to see.
Kenya's nursery could very well be an ode to her grandmother. The former beauty queen gave birth to her first child in November, a girl she named Brooklyn Doris. No doubt the former "Real Housewives of Atlanta" star wanted a part of her grandmother to live on in her child. And knowing Kenya, she'll be raising Brooklyn with as much love as her grandmother devoted to her.
Please fill in your e-mail so we can share with you our top stories!