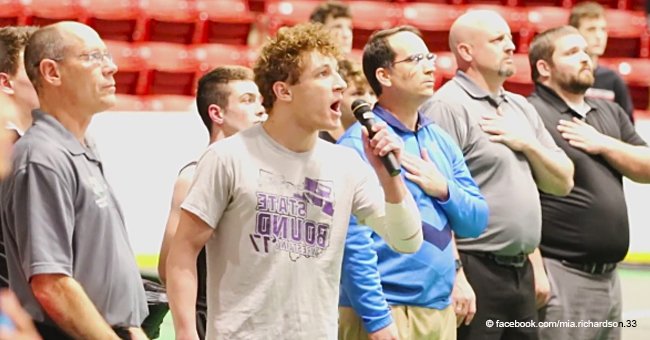 Ohio Student Steps up to Sing Our Incredible National Anthem and It Rapidly Goes Viral
17-year-old Isaac Bryant steps up for his sport and for his nation as he sings the National Anthem for a district wrestling event gaining fans across the country.
It happened at the D-3 District Wrestling Championships when the organizers needed someone to sing the National Anthem to begin the event. He said he volunteered because of some previous singing and performing experience,
"I sing a lot. I guess that's kind of a part of me. That's what I do. I'm a little be of a performer if you haven't noticed."
Bryant is from Mechanicsburg High School, and it was the first time he had to sing the National Anthem solo. But his touching performance made everyone feel his patriotism and sincerity, which he explains,
"A lot of people today, I don't know what the issue is, but they don't people now care about America. The younger generations aren't patriots. I'm a patriot myself, and a lot of people I know are patriots."
The video went viral with over 500,000 views and 6,000 shares.
His parents who were at the event were moved by their son's rendition. His mother, April Bryant, shared,
"I was just so proud. We were used to the voice, but I guess it was the heart he put into it. It brought tears to our eyes."
Barry Bryant, Isaac's father, proudly declared,
"Nothing he does surprises me because he's pretty good at everything he does."
Another sports event had their moment with "The Star-Spangled Banner" when the recording of the anthem failed to play. The players along with everyone else present in the gym that day took the lead, stood up, and sang with pride and respect. It was a special moment of patriotism in North Polk High School, Iowa.
Please fill in your e-mail so we can share with you our top stories!