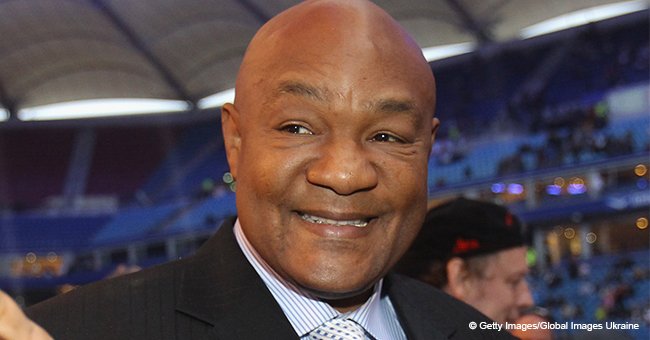 George Foreman Contemplates Life as He Breaks Silence Following Daughter's Death at 42

Following the death of his daughter Freeda Foreman, boxing legend George Foreman reacted to the tragedy by contemplating life in a recent post on Twitter.
The Olympic gold medalist/two-time Heavyweight champion shared the photo of a horse and its newborn offspring and marveled at the wonder.
"Heaven send so many wonders; too many to have questions about any one thing or event in my life," George, 70, wrote. "Lippizana colt just born on the ranch."
The recent "event" that has most likely prompted questions from George is the death of his daughter and fans suspected this was his way of dealing with the tragic incident.
A LinkedIn page under her name claims Freeda was studying criminal justice
Taking to his comment section on the platform, they offered their condolences and encouraging words.
"Wish you the best, champ. I know you'll get through this," replied one Twitter user.
"The Lord giveth, and He taketh away! I can't imagine being in your shoes right now," chimed in another. "Wishing you God's comfort in this tough time! Stay strong, Champ! Praying for you and your family!"
A third person consoled:
"So sorry for your loss, champ. The saddest thing is for a parent to have to deal with the loss of a child. I imagine nothing could even come close."
Freeda George Foreman was found dead in her Texas home over the weekend. According to TMZ, the authorities are waiting for a report from the coroner's office on the cause of death but have ruled out any foul play.
Freeda, 42, followed briefly in her father's footsteps, pursuing a professional boxing career in the 2000s. Her short-lived stint of six fights recorded five wins and one loss. She retired in 2001 to focus on being a mom and other projects, including boxing promotion.
BET reports that a LinkedIn page under her name claims Freeda was studying criminal justice at Sam Houston State, and on her Twitter bio, it reads:
"Aside from my love of family, being a good mother, wife, and friend, I aspire to make a positive difference in our American Criminal Justice System."
Freeda is survived by her husband, two daughters, three grandchildren, her parents, and 11 siblings.
Rest in Peace, Freeda Foreman.
Please fill in your e-mail so we can share with you our top stories!