J.Lo Flaunts Abs in Bralette but All Eyes Are on Her Leggings with Singer's Face on Them
Jennifer Lopez got so much attention from the world with an image she recently shared on Instagram. The talented songstress shared the image while revealing her latest legging collection.
49-year-singer Jennifer Lopez looked stunning in a recent image shared on her Instagram page. The picture showed the star wearing a sexy black bra and tight lilac leggings from her new legging collection. The new legging collection has the singer's face on it, a reference to her 2001 album.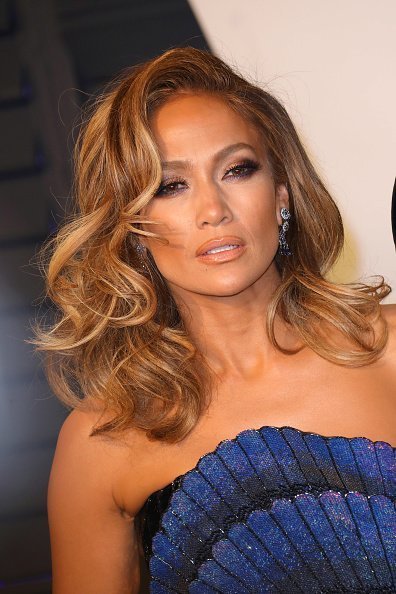 It also has trippy flowers and striped patterns running along both sides. The new collection has J.Lo partnering Niyama Sol, and she couldn't wait to set her Instagram page on fire with the stunning image.
The 49-year-old also showed that she still has her perfect body in shape. The image showed her perfectly toned abs, strong arms, and shoulders. In the image, she sits on a blue and grey armchair, her right leg over one arm of the chair and the other leg resting on the wooden floor.
The sexy singer playfully bites her finger and gives the camera a very sweet smile. The pop star released the image on the 6th of March, and since then it has received extensive positive reviews from her fans. Within an hour of the singer posting the image, it received about 4000 comments and almost 450,000 likes.
Not bad for a newbie eh! Most fans loved J.Lo's look and fit body. Jennifer Lopez and Niyama Sol's partnership had the objective of creating an activewear collection with inspiration from her songs and album covers.
Niyama Sol's brand focuses on sustainability and produces its leggings using a blend of spandex and recycled plastic. The leggings also have thick waistbands and psychedelic patterns which give the butt a feel-good vibe. 
J.Lo's fitness regime and body physique are indeed inspirational to many who have taken up fitness training and healthy living plans. A benefactor of the singer's personal trainer, Ngo Okafor's 28-day plan recently revealed that the program was so beneficial that it has helped her discover her better and happier version.
In an article on Cosmopolitan, Emily Tannenbaum shared her experience and benefits while on the plan. Get on the J.Lo movement and get your own unique leggings collection and either express that perfectly fit body of yours, work out or slay in. Go girl and rock your world.