Alex Rodriguez Decorated the Bed with a Sweet Message in Rose Petals after Proposing to Jennifer
After two years of courtship, Alex Rodriguez and Jennifer Lopez have finally gotten engaged, and A-Rod blessed fans with a look into the intimate proposal via his Instagram story.
Alex Rodriguez, 43, reportedly dropped to one knee and proposed to live-in girlfriend Jennifer Lopez, 49, mere weeks after the couple enjoyed their second-year anniversary.
Instagramming the moment he put a stunning diamond ring on her finger during a romantic Bahamas getaway, the three-time MVP, fourteen-time All Star|World Series Champ captioned the Instagram photo:
"She said yes"
Lopez shared the same picture with eight hearts as her caption. The couple got 6 million likes between them as fans showed their approval.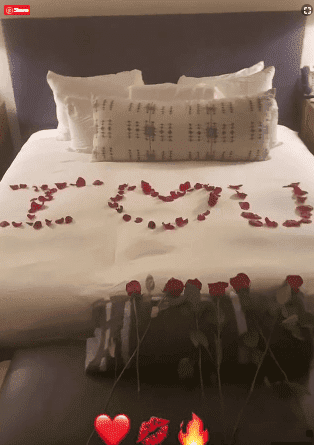 A few hours later, Rodriguez shared a video clip of Lopez following rose petals into their bedroom where he had spelled out "I *heart* U" on the white comforter in red rose petals.
Half a dozen long-stemmed red roses were on a footstool at the end of the bed, and fans even managed to sneak a peek of Lopez as she entered the room.
Their recent Bahamas vacation started with Lopez doing a cheeky little surprise dance on the beach, which Rodriguez caught on film and shared to his Instagram.
She had no idea at the time that he had an even bigger surprise planned for her later on.
Friends of the couple have been rooting for a wedding all along, none more so than Ellen. The TV host has told Lopez many times that she and Rodriguez should get married.
Ellen, seemingly relieved that it finally happened, replied to news of the engagement with, "Yes. I'll be your Maid of Honor." 
Fans were excited in 2017 when the pair, lovingly called "J-Rod," made their red carpet couple debut at the Met Gala. Their budding romance began with a trip to the Bahamas, making it a special destination for them.
The family-first duo was an instant hit; J.Lo's 9-year-old twins, Emme and Max, and Rodriguez's daughters, Natasha, 13, and Ella, 9, are a testament to a healthy blended family.
The only question on everyone's lips now is, when is the wedding?