Meghan Markle Turns Heads in a Glitzy Green Coat, but There's No Engagement Ring on Her Finger
Meghan Markle was missing her engagement ring for an event in London and fans got curious as to why. 
The Duke and Duchess of Sussex visited the Canada House in London on Monday to begin their Commonwealth Day celebrations with the youth. 
Canadian nationals living in London attended the event and got to meet and greet the royal couple in the morning. Markle, who is over seven months pregnant, seemed quite up to the task. 
She also came through with her fashion choices for the occasion. Donned in a green, embellished Erdem coat, the 37-year-old looked stunning. She paired it with a Givenchy clutch and black Aquazzura Deneuve pumps. 
🇨🇦🇬🇧 The Duke and Duchess meet young Canadians working in fashion, the arts, business and academia.

Le duc et la duchesse rencontrent des jeunes Canadiens qui œuvrent dans les domaines de la mode, des arts et des affaires et dans le monde universitaire.#CommonwealthDay pic.twitter.com/Azv7mHNybu

— The Duke and Duchess of Cambridge (@KensingtonRoyal) March 11, 2019
Markle was bare-necked but wore an elegant Welsh gold band on her wrist. She also adorned a pair of pearl earrings. Yet there was one important piece of jewelry missing.
The former "Suits" star typically wears her diamond engagement ring on her finger but it was nowhere to be found. Just her wedding band was seen on her left hand. 
The ring holds gems from the late Princess Diana and a center diamond from Botswana. Markle wore it as recently as last Friday during an International Women's Day panel event. Speculation arose right away.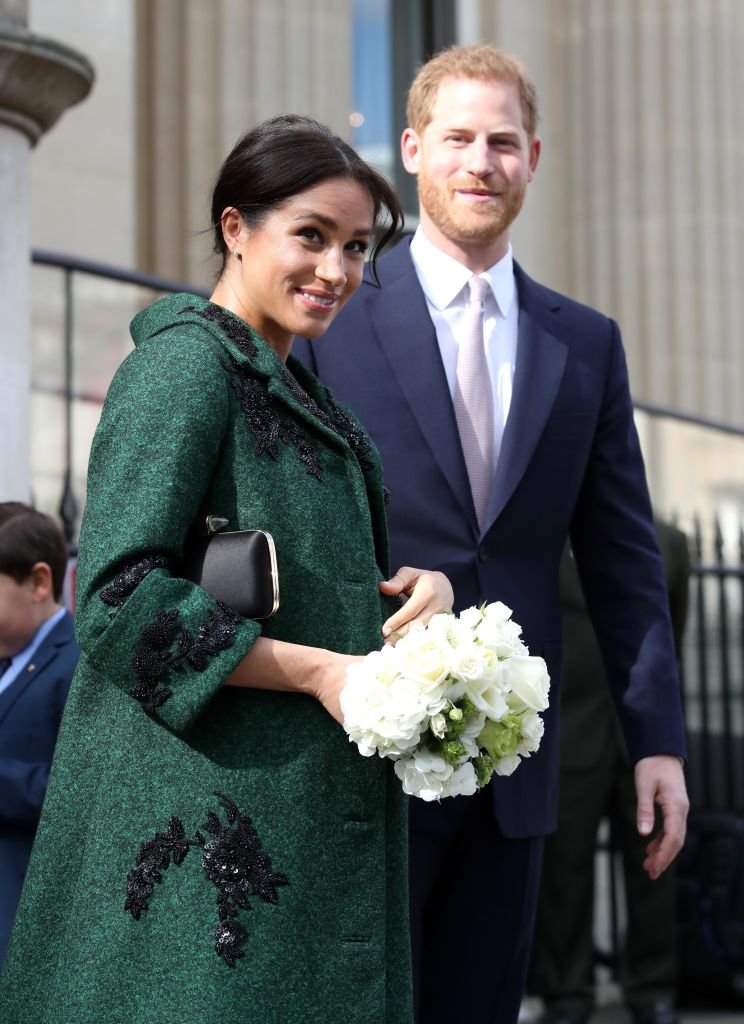 A simple explanation according to Harpers Bazaar is that Markle is probably experiencing swelling in her hands, as most pregnant women do at some point. 
Of course, it may be dangerous to continue wearings rings depending on how serious the swelling gets. Similarly, Kate Middleton removed her engagement ring in January 2018 as she visited the Great Ormond Street Hospital. 
At that time, Middleton was reportedly following hospital rules that require minimal jewelry rather than accounting for her pregnancy with Prince Louis. She wasn't as far along as Markle when fans observed the missing ring.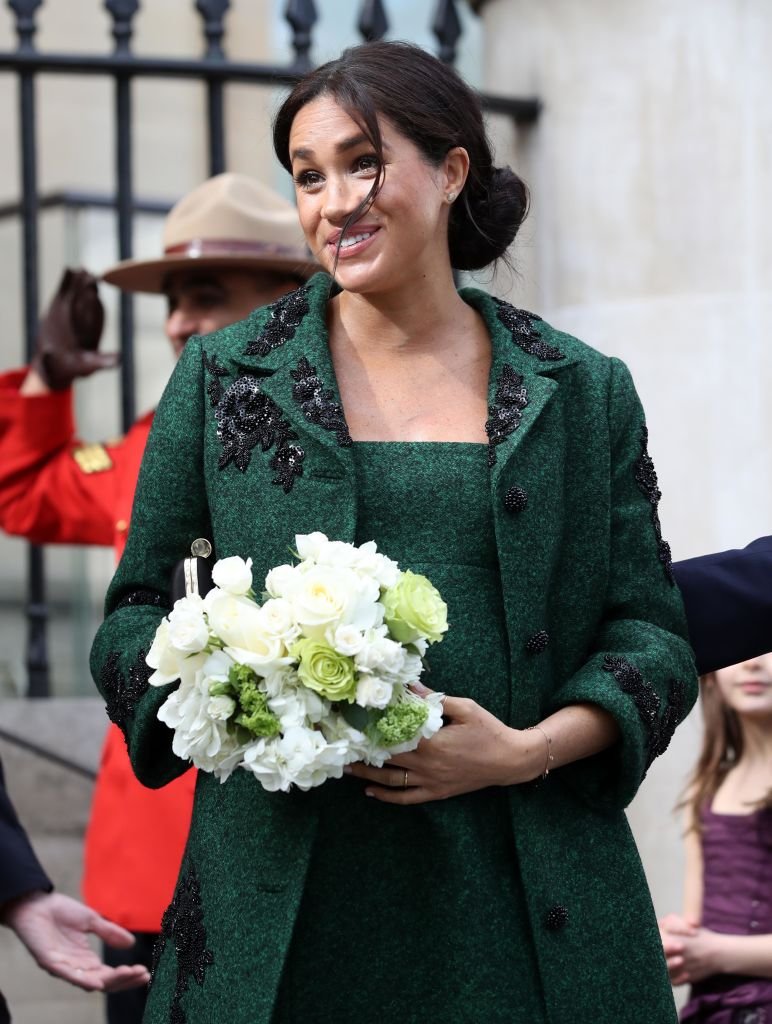 Markle's appearance with the Candian children is quite fitting considering the Duchess once lived in the country for seven years herself. She reportedly considers Canada her second home. 
She and Harry enjoyed time making maple taffy with the younger children. The Canadian spring tradition consists of heating up maple syrup then pouring it on top of some ice.
One then takes a popsicle stick and rolls the syrup to finish creating the delicious sweet. After she was done, Markle made a game out of eating the snacks with the kids, trying to see who could eat the most of them.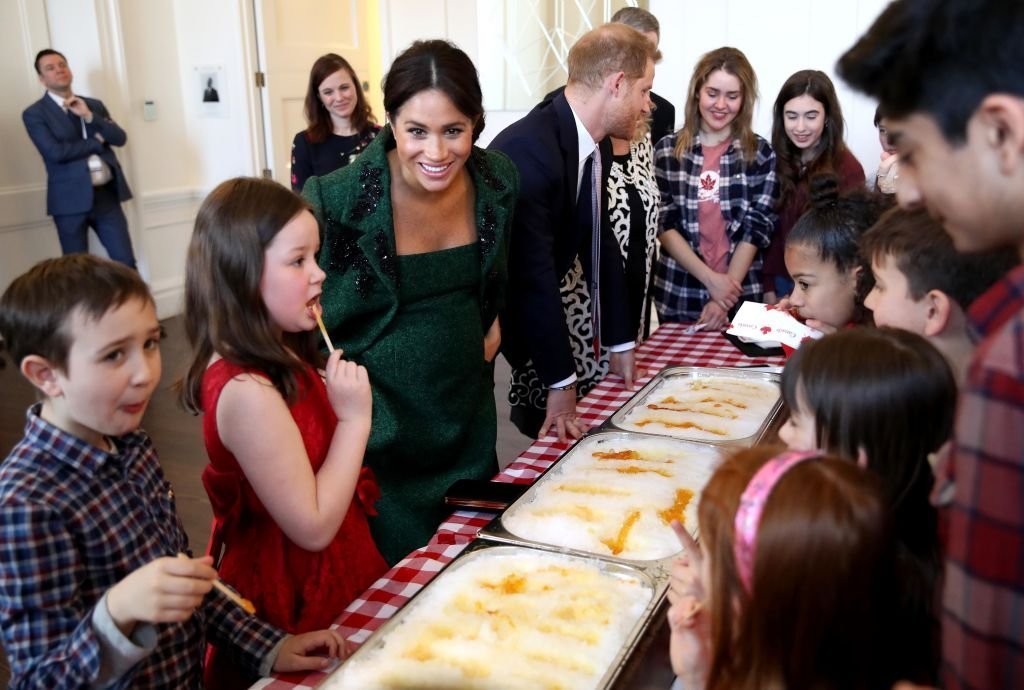 After the engagement, the couple is expected to join the Queen and other royal family seniors for a Commonwealth Day service in Westminster Abbey. This year marks the 70th anniversary of the 53-countries strong Commonwealth.  
Late last month, Markle again looked stunning for a visit to Morocco with Prince Harry. The two were welcomed by King Mohammad VI in Rabat as they rounded off their royal tour. 
Markle stepped out in a light blue ensemble that gracefully flowed out around her. Barely showing off her baby bump, the patterned dress held frilly sleeves and opened into a crew neck at the top. 
The Crown Prince of Morocco, Prince Moulay Hassan, bids Their Royal Highnesses farewell. #RoyalVisitMorocco. pic.twitter.com/si0WsLQ2qa

— The Duke and Duchess of Cambridge (@KensingtonRoyal) February 25, 2019
At the bottom, lots of material fell around Markle's feet in blue waves. The chiffon dress was reportedly designed for Herrera's AW19 collection and costs £3,222. 
The Duchess' custom version comes from a designer whom Queen Letizia of Spain highly favors. Markle paired the subtle but dramatic gown with a satin clutch and a pair of nude stilettos. She wore her hair in a low bun and kept her makeup simple.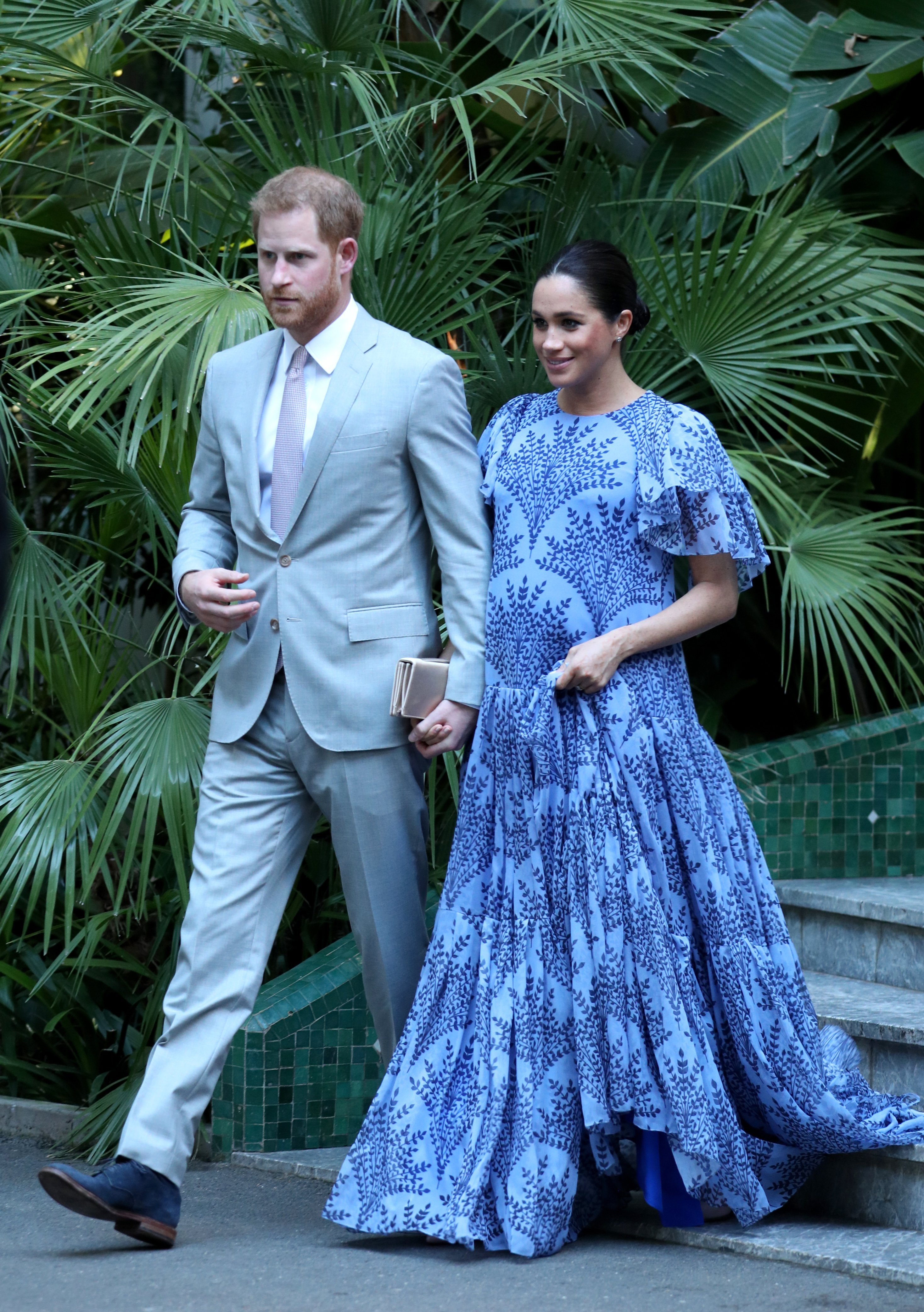 The royal couple reportedly began their dating with an exchange of emojis and lots of DMs. They can be said to have been the most modern couple thus far.
Since they were living in different parts of the world, the two had no choice but to exchange lots of messages in virtual form, and it looks like the 21st-century style of courtship worked out pretty well. We can't wait to see the little one.