Ian Ziering Pays Touching Tribute to His Onscreen Dad Jed Allan Who Died a Week after Luke Perry
On Saturday "Beverly Hills:90210" fans paid tribute to the sad passing of another cast member, Jed Allan. 
Rick Brown, Jed's son first broke the news of his father's passing on Allen's dedicated Facebook fan page. The soap star died peacefully in Palm Desert, California at the age of 84.
To the soap opera lovers, Jed's convincing portrayals of his characters in several soaps made him a legend. With a heavy heart Jed wrote: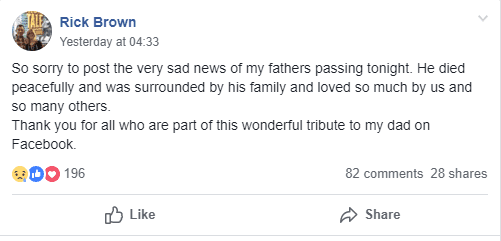 On Sunday, Ian Ziering led the tributes to his onscreen "Beverly Hills:90210" father. Jed played the role of Rush Sanders, Ian Ziering's (Steve Sanders) father on the series and they worked together from 1994 until 1999. 
Saddened by the loss of another castmate Ian posted a snap of himself and Jed along with a tribute message:
As a child, Allan wanted to follow in his father's footsteps as a musician, but in college, he discovered his real passion - acting. 
Soon Broadway and theater became his point of focus before he moved to Los Angeles. In 1964 Jed snagged his first role as Ace Hubbard on "Love and Life." Over time Jed became a bit of a soap opera specialist, as he starred in quite a few over the years.
The actor portrayed Don Craig on the long-running soap "Days of Our Lives" from 1971; he also starred as C.C. Capwell on "Santa Barbara" from 1986 until 1993 when Jed joined "Beverly Hills:90210."
During an interview in 2009, Jed explained what he brought to a role of himself when he played the role of C.C. Capwell as he said:
"It sort of just happens, you are always offering something of yourself, but not the actual character itself. I'm a lot easier going than C.C… I learned really what I didn't like about myself in the role. There were too many things about myself that I had to put into him that I didn't like. C.C. was immovable and I have that stubbornness, although I've mellowed over the years."
Fox announced the reboot of the popular 1990s series on the same day that Luke Perry, fellow costar and heartthrob, had his massive stroke. A few days later on March 4, Luke died followed by Jed's passing on March 10. 
Welcome home. 90210 returns this summer on @FOXTV. #90210onFOX https://t.co/guy2o2F4yR

— BH90210 (@BH90210) February 27, 2019
Many of the original characters signed up for the reboot including Brian Austin Green, Tori Spelling, Gabrielle Carteris, Jennie Garth, Ian Ziering, and Jason Priestley. Whether Jed planned on returning as well is unknown. 
The soap star leaves his three sons, Rick Jarrod, Michel Seth, and Dean along with their families and his grandchildren behind. 
Jed's wife, the interior decorator Janice Toby Druger passed away in 2001 after a marriage of 43 years. In 2009 Jed moved to Palm Desert in California where he lived until his passing.
A few days after Luke Perry died, fellow "Beverly Hills: 90210" costar Jason Priestley posted a touching tribute to his dear friend.