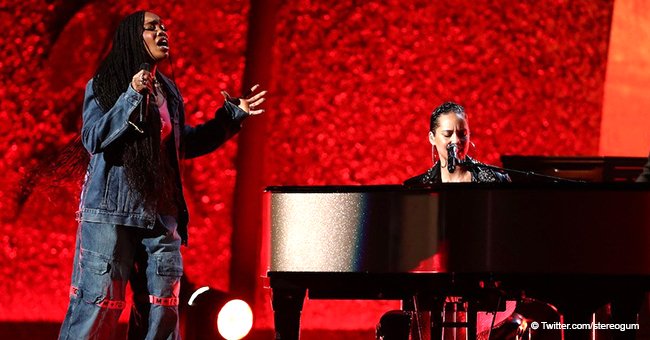 Alicia Keys and SZA Team up to Honor Late Aretha Franklin with Showstopping Performance

Alicia Keys and SZA held the audience spellbound as they paid tribute to the late Aretha Franklin with a show-stopping performance at the "Aretha! A Grammy Celebration for the Queen of Soul" concert.
More than 12 artists gathered at the historic Shrine Auditorium in Los Angeles to celebrate the life and talent of an iconic legend with mind-blowing renditions of some of her greatest hits.
MAKING ARETHA FRANKLIN PROUD
Keys, 38, and SZA, 28, did not disappoint as they took to the stage to perform a three-song medley. Their recreation of Franklin's 1970 hit "Spirit in the Dark" was a crowd favorite, and according to Variety, Keys even took her hands off the piano keys long enough to act out the "Put your hands on your hips" part. 1972's "Day Dreaming" and 1971's "You're All I Need to Get By," were the other "Aretha Franklin" hits that the R&B duo did justice to.
GLOWING REVIEWS ON SOCIAL MEDIA
Not only did Keys and SZA get a standing ovation from the over 5,000 members of the audience, but they also won the hearts of viewers who wasted no time commending the performance on social media.
"That Alicia Keys & SZA collab was EVERYTHING! JOB WELL DONE!" gushed one Twitter user who also added several "blazing" emojis.
"Alicia Keys and SZA's performance was amazing!" echoed another.
ALL-STAR CAST FOR THE QUEEN
"Aretha! A Grammy Celebration for the Queen of Soul," although taped in January, finally aired on CBS this past weekend and spotlighted, yet again, the exceptional vocal range and numerous achievements of one of the greatest singers of all time.
The event was hosted by actor/filmmaker Tyler Perry and featured hair-raising performances from star acts across generations and musical genres.
Jennifer Hudson set quite the standard when she opened the show with her rendition of two iconic "Aretha Franklin" tunes, "Respect" and "Think." Hudson's pitch-perfect delivery did justice to the songs and would have been applauded by the late Queen of Soul herself.
OTHER SHOWSTOPPING PERFORMANCES
Season 3 "American Idol" winner Fantasia Barrino and Grammy-winning singer/songwriter Rob Thomas also lit up the stage with their duet of "I Knew You Were Waiting (For Me)," originally sang by Franklin and another late music legend George Michael.
Barrino would later team up with Andra Day, Alessia Cara and Brandi Carlile to bring the crowd home with a stirring performance of another Franklin classic, "(You Make Me Feel Like) A Natural Woman."
Other music heavyweights that paid tribute to Franklin on the big night include Céline Dion, John Legend, Patti LaBelle, Yolanda Adams, Shirley Caesar, BeBe Winans, Kelly Clarkson, Janelle Monae and even the younger generation like Chloe x Halle and H.E.R.
R-E-S-P-E-C-T FOR THE QUEEN OF SOUL
Backstage during the show, Dion opened up to ET about how it feels to pay tribute to the woman who taught her something peculiar about music.
"You sing with your heart, but she has taught us that, when we believe so much, that it comes from deeper than the heart, it comes from the soul. So we did not invent those words, she gave those words. She put those words into our repertoire, into our lives and dreams…our performances. I feel extremely, extremely fortunate and honored that they called me to pay tribute to her because I think that we all took through the years a little part of her."
Franklin's longtime collaborator and chief creative officer for Sony Music, Clive Davis, seemed to echo Dion's sentiments, declaring in a powerful speech during the concert, that "there will never ever be another Aretha."
Franklin died of pancreatic cancer on August 16, 2018, at the age of 76.
Please fill in your e-mail so we can share with you our top stories!