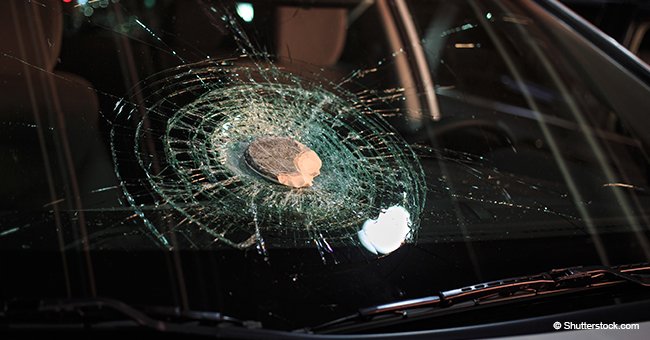 Texas Mom-of-3 Dies after a Rock Thrown from an Overpass Crashed into Her Car's Windshield
Temple police are investigating the death of a mother as a homicide after a rock thrown from an overpass crashed through their vehicle's windshield.
On March 9, Temple police officers in Texas responded to an unknown injury call around 8:41 pm on Interstate 35 close to the 2600 block of IH-35 and Belair Dr.
The caller told 911 dispatchers that the vehicle was northbound between exits 303 and 305 on Interstate 35 when someone hurled a big rock from the overpass onto the highway. The rock crashed through the windshield and into the passenger seat.
In the vehicle at the time was the 33-year-old mother of three, Keila Ruby Flores in the passenger seat while her boyfriend, Christopher Rodriguez drove the car. In the back seat sat the three children who were unharmed by the incident.
Keila got rushed to Baylor Scott and White Hospital, but doctors were unable to save her, and she passed away from her injuries on Sunday at 10:32 am. An autopsy has been ordered.
It took a second for the family in that car's lives to change forever, as Christopher elaborated on what happened:
"(We were) headed back to Waco on 35 northbound, all of sudden something just strikes the window. An explosion just comes right through the window. I didn't know what it was. I look over, and I see Keila, and she is laying there unresponsive. I'm just shaking her, trying to wake her up, (but) she was unresponsive."
Temple police had no information regarding the suspect and asked that anyone with information relating to the incident, please contact them. There are several ways to report any relevant information.
Online tips can be sent through Bell County Crime Stoppers. Tips can also be sent through the P3tips app. Calls can be made to 254-526-TIPS (8477), or Temple Police Department can be contacted directly at (254) 298-5500.
In a similar but bizarre way, Barbara Amidon died in August last year after a rock thrown from the wheel of a passing truck hit her in the head. 74-year-old Barbara and her husband, 65-year-old Gregory Sterman drove along on Route 5 & 20 not far from the town of Seneca when the tragic incident occurred.
Gregory drove straight to Geneva General Hospital and got flown to Strong Memorial Hospital but died on August 4, 2018, from her injuries.
In July last year, a freak accident involving a rock also claimed the lives of a mother and daughter while en-route to Rosemount, Minnesota from Shoreview.
Please fill in your e-mail so we can share with you our top stories!