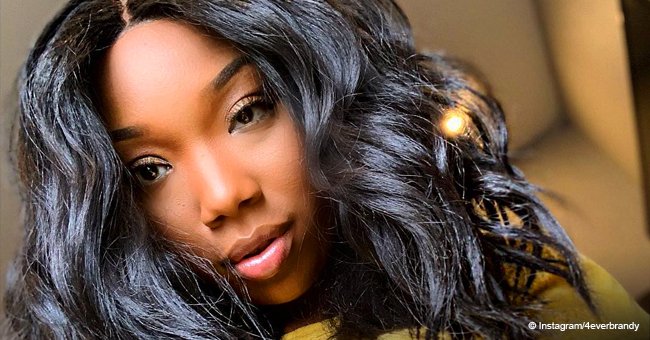 Brandy Falls Onstage, Gets Harshly Slammed for Lip Syncing Whitney Houston's Song at Miami Festival
Brandy suffered a nasty fall while performing a Whitney Houston song at a music concert over the weekend and now she's getting dragged after fans realized she had been lip-syncing all along.
The "I Wanna Be Down" singer was one of the artists billed to perform at the 2019 edition of Jazz In The Gardens Music Fest in Miami Garden, Florida.
Things went south when she was performing a cover of the late Houston's "I'm Your Baby Tonight."
In a clip of the incident shared by The Shade Room, Brandy, 40, is seen singing into a microphone while executing a few dance steps.
While trying to strut down the stage steps in her heels, the singer slipped and fell. The fall was bad enough, but then members of the audience realized that, despite the accident that had Brandy adjusting herself for several seconds, the music never stopped playing.
In no time, Brandy became a hot topic on social media. While a few worried about her fall and hoped she was okay, most internet users were outraged that she was lip syncing not just any song, but that of a musical legend with exceptional talent.
Brandy once claimed Houston "passed the torch" to her
"Whitney's ghost finally got Brandy," wrote a Twitter user, sharing a close-up view of the unfortunate fall.
Another Twitter user shared a couple more videos from the concert and pointed out that Brandy wasn't even "trying to pretend she wasn't lip syncing."
"These videos of Brandy are really concerning. I knew she lip synced a lot, but this is over the top. Is she losing her voice?" added the same person.
"OMG, this is so disappointing. She ruined any of her records I did like if that. Why would she do this to herself!? Did she not know people were watching???" remarked another disappointed fan. "Like come on, if you weren't even going to put forward the effort you should have not even went through with this."
This comes less than two months after Brandy had to cancel a scheduled performance at the Kennedy Center due to severe health issues including inflamed vocal cords and a bleeding eardrum.
The lip sync debacle may have also sparked intense outrage because Brandy once claimed Houston "passed the torch" to her. In a posthumous birthday message for Houston two years ago, the "Have You Ever?" singer wrote:
"You live on in me and no one on this planet loves you the way I do."
Fans called her out at the time, saying she was too extra, but Brandy fired back by telling folks "no one knows what we talked about." Brandy is yet to respond to the recent criticism of her lip syncing, but social media users probably see it as disrespectful to Houston's talent and legacy.
Please fill in your e-mail so we can share with you our top stories!