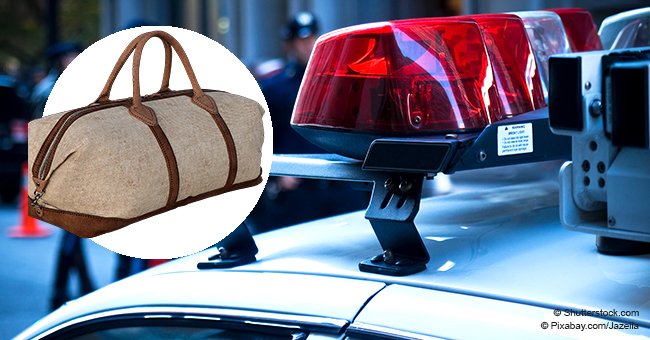 Calif. Girl, 9, Found Dead in Duffel Bag Was 'Fun, Loving,' as 2 Persons of Interest Are Detained
The 9-year-old girl who was discovered lifeless in a duffel bag is described by her father as "fun", "loving," and "bubbly" as he seeks for answers and justice for her death.
The father of the 9-year-old girl who was found dead inside a duffel bag has spoken up and revealed she was a "fun, loving, big-heart[ed]" child who could have had a bright future ahead of her.
On March 5, Trinity Love Jones was found lifeless with her head and upper body protruding from a duffel bag. She was discovered along an equestrian trail in Hacienda Heights, California with no signs of trauma. There was no missing person report prior to her discovery but it was believed she was left on the trail on March 3. It's not clear if she was still alive then.
Following an investigation, authorities took into custody two persons of interest in the case which has been classified as a homicide. One of them is reportedly 39-year-old Emiel Lamar Hunt who is the boyfriend of Trinity's mother. Hunt has been charged with the death of the 9-year-old according to the Los Angeles Sheriff's Department. Meanwhile, there are no details surrounding the other person who remains detained.
Trinity was wearing a pink shirt and blue pants when she was found. Her shirt which read "Future Princess Hero" was a stark reminder of what she could have been. According to her father, Antonio Jones, his youngest daughter was "full of character, full of life, full of joy." He also described her to KTLA as "fun, loving, big heart[ed], bubbly."
"Little girl could've been whatever she wanted to be in life," he added.
Antonio has no words for what he's feeling but he hopes to find answers and justice for his daughter's death.
Sheriff Alex Villanueva in a press conference assured people that they will do everything they can to find out the details surrounding Trinity's death.
"A sad moment for the department and the community, and we're going to do our best to figure out what led to the suspicious death of the child involved."
Meanwhile, retired L.A. County Sherriff's sergeant Dan Scott is perplexed about what happened to Trinity. He said it was rare for a child's body to be dumped based on his experience investigating child abuse and death cases. According to a 2016 report by the L.A. Times, most of the 400 reported cases of child deaths due to abuse and violence since January 2000 occurred in the homes of their parents and guardians.
If Trinity's case is isolated, it is curious to find out the motive for her death and why she was stuffed in a duffel bag and left to be discovered.
Please fill in your e-mail so we can share with you our top stories!