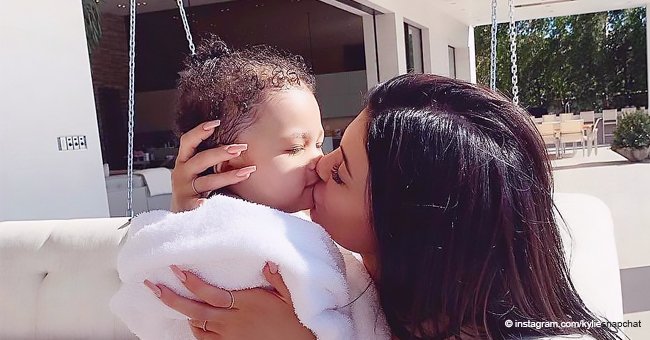 Kylie Jenner Reveals Why She Chose the Name Stormi for Her Daughter
Kylie Jenner shared details of how she came up with her daughter, Stormi Webster's name. Some fans think this recount is a lie and some think it is a beautiful and thoughtful one.
Kylie caused controversy after disclosing how she came about the name she finally chose for her gorgeous baby girl with Travis Scott. Last night, Jenner had an Instagram Live on her social media page. The 21-year-old while having her make up done for an event with sisters, Khloe, Kim, and Kourtney decided to answer a question from her make-up artist.
She was asked to explain where she got the idea of her baby's name from and surprisingly, Kylie said it all started as a nickname. Explaining further, the reality TV star said she would call her baby girl "Storm" when she was still pregnant with her.
According to the mother of one,
"Yeah, I feel like she chose her own name."
Kylie also confessed that she had looked up names online and saw "Storm" as one of the interesting ones. And since always wanted them to share something in common with their names, Jenner decided to add "ie" to "Storm" to make it "Stormie."
Concluding her story, the young billionaire said although two other names felt better at the time, the only one that seemed right when the baby came out was "Stormie," which she finally chose.
There were lots of sweet comments during and after the post, but some recalled that there were some inconsistencies with her stories in the past and the one she is now telling.
During a GQ interview session where Kylie asked her boo, Travis, 23 questions, one of the conversations was about who named their daughter. The proud father answered that he gave his baby girl her name. Although this might seem confusing, sometimes it takes both parents to agree on a fitting name for their child, and this might be the case.
Stormi who is a little over a year old has grown so adorable and can now pronounce some words like "momma," "hey" and "bye." The world is patiently watching her grow up to be such a beautiful and loving young woman.
Please fill in your e-mail so we can share with you our top stories!