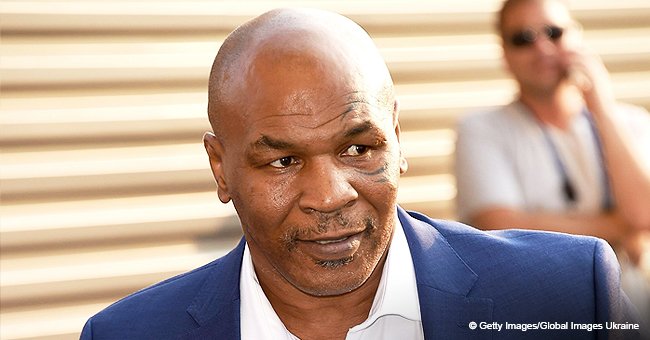 Mike Tyson Says He Wouldn't Let Michael Jackson 'Hang out' with His 8-Year-Old Child

Former world heavyweight champion boxer Mike Tyson has revealed that he would never have allowed his 8-year-old son to socialize with Michael Jackson.
Boxer Mike Tyson opened up to Michael Rapaport on his "I AM RAPAPORT" podcast where he spoke about his relationship with music icon Michael Jackson.
Tyson spoke frankly about his opinion on the recent controversial documentary, "Leaving Neverland," which has once again lifted the lid on the King of Pop's alleged pedophilic activities.
"I have an 8-year-old kid. I wouldn't let Michael hang out with my kid. I wouldn't let my kid go over Michael's house. I love Michael. Ya know what I mean. Michael has a reputation of this."
TYSON "LOVED" MJ BUT WOULDN'T LET HIS SON NEAR HIM
The former heavyweight champion who considered Jackson a close friend, nonetheless declared that he would not have allowed his 8-year-old son to "hang out" with the star.
Jackson, he explained, always had a reputation for being too "fond" of children, and he would not trust a child to his care.
Tyson, who was a close friend of Jackson's visited Neverland several times
TYSON'S CONVICTION FOR RAPE
For Tyson, it is the same as people who don't want their children in his company because he was convicted of rape and spent time in prison:
"It's like some people say, 'Well listen, you're Mike Tyson. I wouldn't let my daughter around you cause you've been to prison for rape, I respect that, I understand that."
Tyson was arrested in July 1991 for the rape of 18-year-old Desiree Washington, was convicted and served three years of his six-year sentence.
TYSON'S COMMENT ON "LEAVING NEVERLAND"
When Tyson was asked to comment on the "Leaving Neverland" documentary, he expressed the opinion that the parents of Jackson's alleged victims carried a large share of the blame for putting their sons in harm's way:
"The parents have to be responsible for that sh*t. I just thought the fact that these kids, Michael is telling them, 'if anyone knows about this we're both gonna go to prison forever.' It was just ... really horrible."
TYSON VISITED NEVERLAND
Tyson, who was a close friend of Jackson's visited Neverland several times, and presumably met the King of Pop's child companions.
He expressed his horror at what Wade Robson and James Safechuck had gone through, but he criticized them for their participation in the documentary which exposed the Jackson family and the late Jackson's children to considerable pain and anguish.
THE DOCUMENTARY THAT SPARKED THE CONTROVERSY
"Leaving Neverland" is a controversial HBO 6-part documentary series on Michael Jackson which focuses on the testimony of two men who allege that they were sexually molested by the music icon as children.
Wade Robson and James Safechuck's allegations of the King of Pop's abuse has shocked the Jackson family who claims the men are only out to extort money from the late singer's estate.
Jackson's niece Brandi Jackson has come forward in defense of her uncle claiming that her own sexual relationship with Robson proves that he was not abused.
Please fill in your e-mail so we can share with you our top stories!