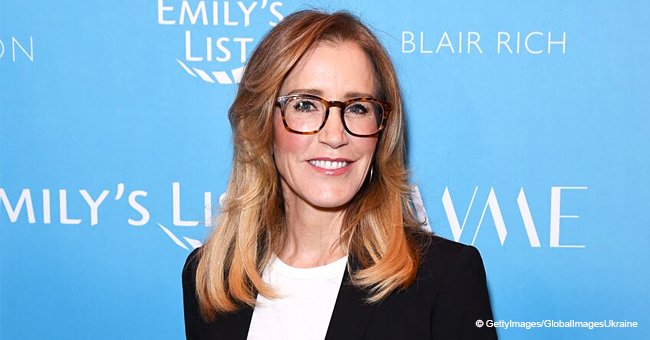 Felicity Huffman, Charged with Bribery, Has 2 Daughters and One of Them Is Also an Actress

The two young women are also daughters of actor William H. Macy. The oldest of them, Sofia, is following her parents' footsteps to pursue acting, but is now surrounded by controversy.
"Desperate Housewives" star Felicity Huffman is one of the celebrity women charged with bribing college coaches and testers, among others, in elite colleges, to secure the admission of their daughters.
Since Huffman was named by the FBI as suspect in an investigation over a scheme to fraudulently enroll her daughter in college, everybody wants to know more about the 16-year-old and 18-year-old girls.
SOPHIA GRACE MACY
The older of the two, usually referred to as Sofia by the media, is 18 and currently attends Los Angeles High School of the Arts (LAHSA) as her father, Macy, recently told Parade."She's thriving there. I know she's going to make a go of it in the business, which I support. I've seen her; she's good, she's really good," the "Shameless" star said.
In the same interview, the Emmy-winner shared that Sophia was planning to go to college and the family was going to the "stressful" process of filling college applications.
According to court documents, Huffman took part in an elaborate scheme from 2011 until 2019 to help Sophia with her applications, using bribery and other forms of fraud to get her admitted in several prestigious universities.
Sophia frequently accompanies her father to red carpet events, and just this past January she attended the Golden Globes with the 68-year-old.
She even acted under her father's directions in a small role in the 2017 romantic comedy "The Layover."
GEORGIA GRACE MACY
According to her father, 16-year-old Georgia has very different interests to those of her older sister, but she too plans to receive a college education.
"She's interested in politics, political science and pursuing that. She's in a very academic school and killing it," the "Fargo" actor shared in the above-mentioned interview.
Court papers state that Huffman made arrangements to go through the same scheme than her older sister with Georgia's admission, but ended up changing her mind about it.
COMEDIC REACTIONS TO THE BRIBERY CASE
Among 50 people were indicted by federal prosecutors amid what the FBI has called "Operation Varsity Blues," including Huffman and "Full House" Lori Loughlin along with her husband Mossimo Giannulli.
Late-night hosts had a great time commenting on the bribery scandal, which involves a total of 33 wealthy parents paying massive sums to be part of the fraud.
Seth Meyers imagined both Huffman and Loughlin as part of the cast of a prison-themed Netflix series "Orange Is The New Black" now that they could be facing prosecution.
Colbert made reference to Loughlin's work in "Full House," accusing the iconic series of lying to people about the Olsen twins playing the same character.
"Back in the '90s, Loughlin was part of a notorious scheme where they made a pair of twins pretend to be one person. No one knew," he joked.
Please fill in your e-mail so we can share with you our top stories!