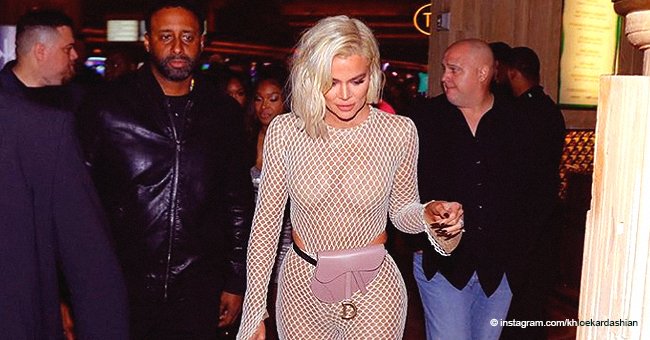 Khloé Kardashian Puts Her Plummy Curves on Full Display in a Fishnet Suit
With the recent controversy hampering Khloé Kardashian's every step, she takes things further by putting it all out there once again in what appears to be a desperate attempt to reclaim her power.
Khloé Kardashian, 34, was photographed on a night out to celebrate the birthday of twins Malika Haqq and Khadijah Haqq McCray in Las Vegas on Sunday.
Kardashian flaunted her curves in a skintight fishnet lined body suit that left very little to the imagination and certainly got her the attention she was craving, with the designer posting pictures of her with the telling title,
"BOUNCE BACK."
The "Keeping Up With The Kardashians" star reportedly hired a private jet to kickstart the celebrations that included a night of clubbing as a recently-single woman.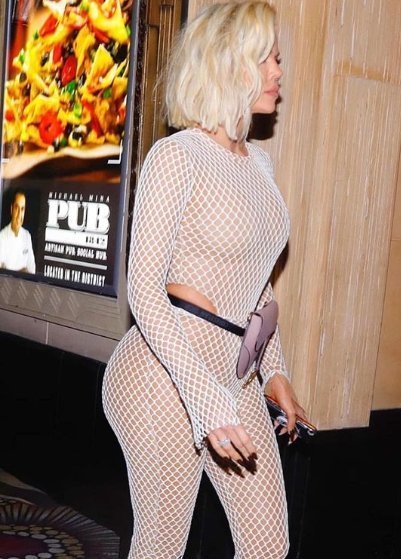 Khloé Kardashian in Las Vegas. | Source: Instagram/LaQuan Smith - Designer
The LaQuan Smith outfit was designed to sizzle, with the two-piece boasting visible skin in the midriff area and a frayed hem. Kardashian paired the outfit with $795 Gianvito Rossi nude heels and a mauve Dior belt bag.
Khloé's short platinum blonde tresses were parted on the side and styled in loose waves that framed her flawless makeup.
However, not all fans were impressed with the look with someone describing the outfit as "something used to wrap pears at the Asian market."
According to sources, the trio enjoyed a meal at Hakkasan and enjoyed Don Julio and Moet Champagne before checking into the nightclub at 1 am where they were given a VIP table near the DJ booth.
The party included a large cake and sparklers and fellow revelers, including the club PR, say a good time was had by all.
Khloé and the twins have been friends since they were teenagers and fans were pleased to see her out having a good time after the scandal surrounding Tristan Thompson's cheating.
The father of her child kissed Jordyn Woods, her sister Kylie Jenner's best friend, at a party last month. Woods has since been cut off by the family and is reportedly no longer living with Jenner.
Nobody knows Tristan better than Khloé with her own relationship with Thompson beginning while his ex-girlfriend Jordan Craig was pregnant with his first child.
While this was not the first time that rumors of Thompson's cheating have made the rounds, he was accused of infidelity last year while Khloé was pregnant with their child, it appears the couple has split up this time.
The recent controversy has sparked more nastiness with Mike Fleiss recently claiming that Khloé didn't make the cut to be the next "Bachelorette." The Kardashian clan deny any involvement with Fleiss or the show.