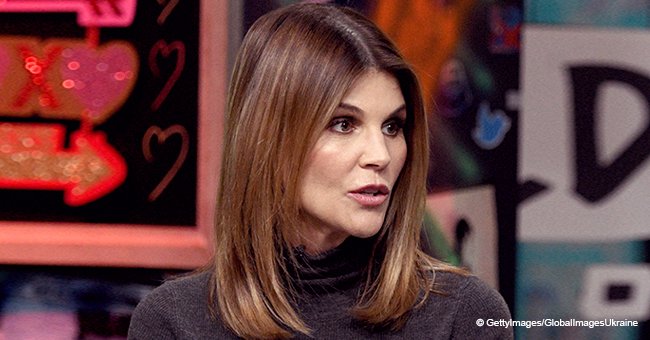 Lori Loughlin's Daughter Jokingly Calls Parents 'Hypocrites' Days Before Bribery Scandal
Lori Loughlin's daughter made some controversial statements just days before her mother was charged in a college admissions scheme.
Giannulli sat down on YouTube's the "Zach Sang show" to discuss an array of topics including how her parents "forced" her to go to college. Whether she was aware of how it happened is still unknown.
Her mother Loughlin, known as Aunty Becky on the 90s show "Full House," was just hit with serious allegations in which she bribed officials to get her daughters into school.
On the show, Giannulli talked about how her fans asked her for advice to get into college saying, "It's the coolest thing getting DMs from girls being like 'I'm applying to college right now, what did you do?' It's fun!"
The 19-year-old admitted though, that she wasn't interested in going at first. She's more focused on keeping up her success on YouTube where she does makeup tutorials.
Plus, she said, her parents themselves didn't even go to college:
"Mostly my parents wanted me to go because both of them didn't go to college. I'm so happy they made me go. That sounds so terrible, they didn't make me."
One of the hosts interjected that her parents did "just fine" despite not having gone to college, to which Giannulli replied, "Hypocrites!"
Loughlin allegedly paid $500,000 to get Giannulli and her sister listed as crew members for the University of Southern California rowing team. This allowed them to enter into the college.
Giannulli also revealed that her father, fashion designer Mossimo Giannulli, "faked his way" through college and used the tuition money from his parents to start his business.
She explained:
"He, like, built his whole entire brand and he wasn't actually, like - I don't know if I'm supposed to say this - ever enrolled in college. But he, like, faked his way through it and then he started his whole business with tuition money that his parents thought was going to college."
While Giannulli thought it was an inspiring story that led to the success of his Mossimo brand, others did not take lightly to what appeared as a lack of integrity in the family.
They pointed out how last year Giannulli showed a lack of gratitude for having the privilege of going to college. In a Youtube video, she said she doesn't "really care about school."
She also stated that she didn't "know how much of school [she's] gonna attend." Fans immediately called her out for being ungrateful and spoiled.
Giannulli apologized in a subsequent video but with her mother's actions coming to light, the old dirt was quickly dug up.
Meanwhile, Loughlin was charged with conspiracy to commit mail fraud and honest services mail fraud. Fans on Twitter reacted in shock. Many posted throwback snippets from "Full House," giving the situation a comedic air.
Pictures and clips from the series were used to compare Loughlin's old character with what we now see is the real one. One person posted a picture of her speaking to Uncle Jessie who is behind bars.
The person wrote:
"Ah, Aunt Becky, how the tables have turned."
Loughlin was in custody of Los Angeles authorities on Wednesday until she was released on a $1 million bond. She is due to appear in court on Thursday afternoon at 2 p.m.
Judge Steve Kim reportedly laid down terms giving her rights to travel within the US and British Columbia since she has work booked until November. The following month, she is to surrender her passport.
Loughlin is required to attend a Boston court session again on March 29, the same date as her husband who was also released on bail. Over 50 others have been named in the scheme.
Please fill in your e-mail so we can share with you our top stories!