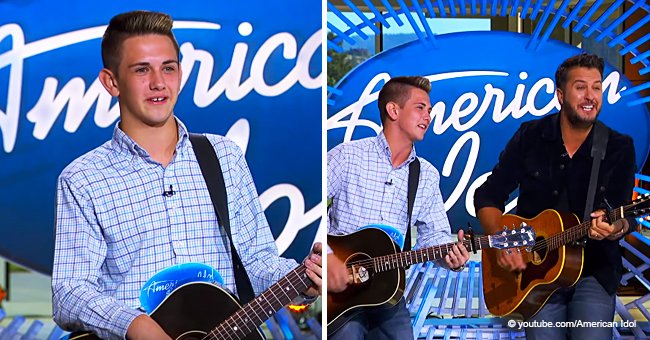 Luke Bryan Breaks into a Tear-Jerking Duet with an 'American Idol' Contestant He Met Years Ago
Country superstar Luke Bryan went out of his way to help a young aspiring singer with a medical condition audition for "American Idol".
Ethan Payne's audition turned into an emotional duet with the 42-year-old "All My Friends Say" singer, as shown on the show's YouTube channel.
"He came to Texas to show me up, no he done come to 'American Idol' to show me up."
The 15-year-old teen from Georgia, who has cystic fibrosis, sang Bryan's "I Do".
Luke recognized the young lad from one of his concerts in Dallas. He crossed paths with Ethan in October 2016, when the latter requested to meet the famous musician through Make-A-Wish Foundation.
For Ethan, who was diagnosed with cystic fibrosis when he was only 18 months old, meeting his idol was a life-changing moment. Cystic fibrosis is an inherited disorder that causes severe damage to the lungs, digestive system, and other organs in the body.
PERFORMING WITH HIS IDOL'S GUITAR
Ethan did not only get the chance to meet Luke, the singer also made then 13-year-old Ethan to sing at one of his sold-out shows in Dallas. What's more, the "American Idol" judge gave Ethan one of his guitars after the show.
When Ethan came on the stage of "American Idol", Luke quickly recognized him, saying, "I know this feller."
Ethan brought Luke's guitar with him at the audition. The confident young aspiring singer then invited the country star to accompany him – a request reminiscent of his first meeting with the singer.
"He came to Texas to show me up, no he done come to 'American Idol' to show me up," Luke said.
Ethan strummed the chords to Luke's "I Do", and then both of them began playing their respective instruments in sync, next to each other on stage. They then broke into an adorable duet.
"It's like [Luke's] my friend," Ethan later said when judge and singer Katy Perry praised his confidence.
Needless to say, Ethan made it to the next round.
Another noteworthy performance on "American Idol" is that of 16-year-old Layla Spring from Kentucky.
The young aspiring singer thrilled the judges and viewers when she brought her little sister Dyxie with her to sing "Who's Loving You" by The Jackson 5.
Please fill in your e-mail so we can share with you our top stories!