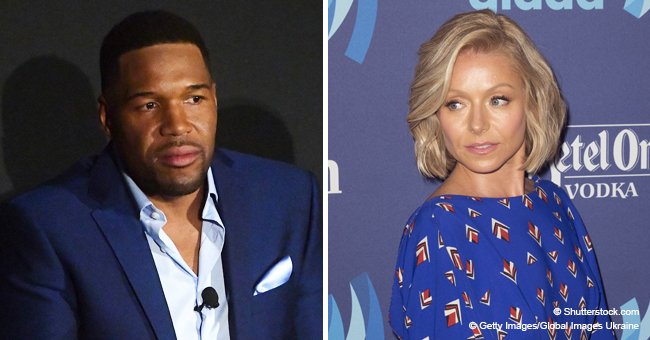 Here's Why Michael Strahan Doesn't Speak to Kelly Ripa Anymore
Michael Strahan, full-time anchor on "Good Morning America", admits he is no longer in touch with co-host Kelly Ripa.
Kelly and Michael worked together for four years on the show "Live! With Kelly and Michael" and seemed to have a great friendship on camera. But when Strahan suddenly announced he was moving on to another show, things changed between the pair.
Ripa who had been with the show for 26 years, felt confused and "blindsided" by Michael. She shared the moments leading up to the announcement,
"Toward the end of it all, we didn't really communicate that much. I kinda looked at it like, 'It was what it was.' I come from a business where you have to collaborate. The show was going well. We're all winning. That's all that matters to me."
Strahan said that he wasn't surprised at the way things turned out and that their friendship didn't go back to the way it used to be after that. He explained,
"I learned through all that went down with that, you can't convince people to like you."
The pair enjoyed a successful run together winning two Daytime Emmys for Outstanding Talk Show Host. Strahan acknowledges that he learned a lot from Ripa during the time they had together.
Ryan Seacrest has since joined Kelly as her co-host, while Michael's GMA partner-in-crime is Sara Haines.
Last year, Haines surprised Michael with a tribute on his birthday by heading to Houston, Texas to chat with his parents.
She asked meaningful questions about "the day he was born" and "his role in the family," to which a teary-eyed Strahan said,
"This was above and beyond anything I would ever imagine that anyone could ever do for me. It's the nicest thing anybody's ever done for me."
A family man with four kids, two from his first wife and twin girls from his second wife, Strahan draws strength from his kids. He shares,
"I love being with the kids. To me, it's all about family, now more than anything."
Please fill in your e-mail so we can share with you our top stories!