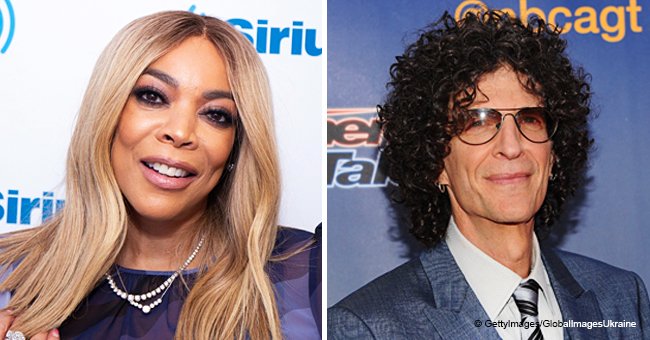 Wendy Williams Slammed by Howard Stern for Her 'Mystery Illness' in Fiery Comments

The two bigmouthed broadcasters are in the middle of an offensive exchange through their platforms. Stern recently responded to Williams using her mysteries and scandals against her.
During the March 13 episode of his radio program at SiriusXM, 65-year-old Howard Stern went after fellow media personality Wendy Williams following expressions of disappointment on Stern issued by Williams in her talk show.
Earlier that day, the 54-year-old criticized Stern in the wake of the publication of his first book in 20 years, titled "Howard Stern Comes Again," for, according to her, he has become "so predictable."
Stern wasn't having any of this and he dedicated a considerable amount of time during his show to verbally destroy Williams, accusing her of copying him and reacting very negatively to her having said he had "gone Hollywood."
"Jealous [expletive]… You are nobody to me. You'll never be me, Wendy. You can pretend to be me, you can pretend to be like me, but you're not. You don't have my wit and you don't have my talent. You couldn't have that career. You are a fly."
-Howard Stern, (quoted by) Page Six, March 14, 2019.
"Worry about your husband, not me… [Expletive] you and your dumb show and your mystery illness," Stern said on air, bringing up the latest controversies surrounding his colleague: her health and her husband's rumored infidelity.
"She disappears for two months, nobody knows why, and now she's questioning me? Thanks, honey… I never fainted on my show either," said a furious Stern, mocking her for her collapse in front of the camera in October 2017.
The episode that Stern recalled forced Williams to reveal that she was suffering from Graves' disease, an autoimmune disorder she is still battling, and which, along with a shoulder injury, kept her away from her show the first months of 2019.
In January 2019, CNN's Don Lemon surprised Williams' fans by filling in for her as the "Wendy Williams Show" resumed this year, which prompted Stern to claim that she was not at all irreplaceable.
"People do not like her. [The staff] was doing a dance over at 'The Wendy Williams Show' when she was out. She's a big pain in the [expletive]. I hate to break the news to you, honey. Good thing you hurried back," Stern said.
On March 4, Williams finally returned to her show, after having delayed it twice because of her health issues.
Early in February, it was reported that Williams was "super scared and anxious" about losing her show for good, after seeing how well the show was doing with a series of guest stand-ins doing her job while she was convalescent.
"Watching [fill-in host] Nick Cannon being a huge hit with her audience is tough for her. They're already starting to mess with the format. It's like watching them screw around with her baby," an insider allegedly told Page Six.
Please fill in your e-mail so we can share with you our top stories!