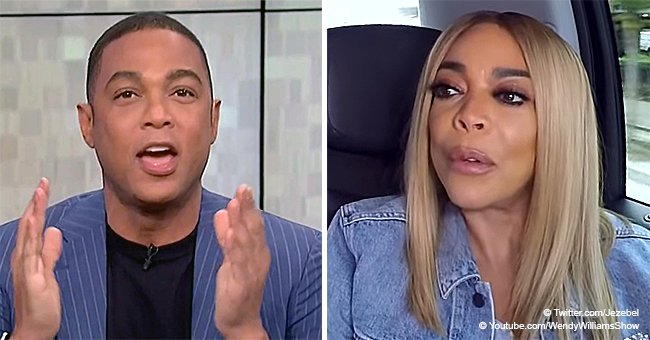 'Wendy Williams Show' returns without Wendy, 'CNN's Don Lemon fills in
Wendy Williams pushes back her return to her show again as Don Lemon takes over for her.
Wendy Williams failed to return to her show on January 14 despite announcing last week that she would. Instead, fans were surprised to see Don Lemon taking her place in the "hot topic" seat as "The Wendy Williams Show" resumed this year.
DELAYING HER RETURN TWICE
Williams was originally scheduled to return to the small screen on January 7 when her show was first scheduled to resume after the holiday break. However, due to her still mending shoulder injury, it was announced that she would delay her return for another week.
LEMON FILLS IN
As fans expected to see Williams back in her purple chair this week, it came as a surprise when CNN's Don Lemon emerged on the set after the show's introductory music played.
Along with Lemon were three women who'd be helping him as panelists on the show – Elizabeth Wagmeister from Variety and Page Six TV, actor/comedian Heather McDonald, and Judge Faith Jenkins. Lemon explained that it takes four of them to replace the talk show queen. He also revealed Williams is still nursing her fractured shoulders and promised she'd be back next week.
ANNOUNCEMENT OF HER CONTINUED ABSENCE ON THE SHOW
An Instagram announcement was also made to advice fans of her show's resumption but with Williams's absence.
'To our loyal Wendy Watchers – To allow enough time for her shoulder recovery, Wendy will now return on Monday, January 21. Starting this Monday, January 14 we will be LIVE with a week of panels of your favorite "Hot Talkers!" We love you for watching!'
THE STORY BEHIND HER INJURED ARM
Williams began sporting an arm sling back in December when she revealed she suffered a hairline fracture. She also drew attention to her December 20 episode when she was noticeably slurring her words to the horror of her fans.
Williams later explained she'd been taking medication for her injured shoulder which resulted to her slurred speech.
'I did that to power through and try to deliver a great show for you, against the better judgement of the many people around me who genuinely care for my well-being,' she said.
POSSIBLY AN INJURED HEART TOO
Apart from a fractured shoulder, Williams is also facing a wave of controversy surrounding her husband, Kevin Hunter and his alleged mistress. The woman he's reportedly been having an affair with for 10 years is rumored to be pregnant.
Some fans suspect the reason she's delaying her return has more to do with this issue than her shoulder. One fan even commented on the post revealing her delayed return,
"Wendy, we know it's because your Kevin got his side chick pregnant. No one is out that long with an injury when they don't have a physical job,"
Williams has yet to comment on these allegations. Fans are hoping she'll weigh in her thoughts when she finally returns to her show next week.
Please fill in your e-mail so we can share with you our top stories!