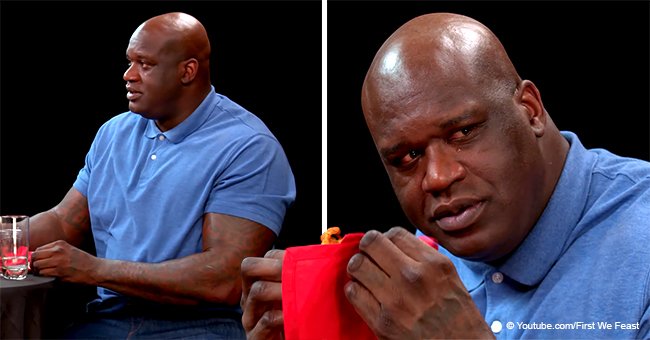 Shaq O'Neal's Hilarious Reactions While Eating Spicy Wings on 'Hot Ones' Go Viral

Shaquille O'Neal may have conquered the world of basketball, but he still finds hot spicy food a bridge too far. A viral video of the basketball star trying to eat spicy wings has gone viral and makes for a good laugh.
Shaquille O'Neal was a special guest on "Hot Ones" a YouTube show hosted by Sean Evans. The show features interviews with celebrities, comedians, sports athletes, and a host of other stars.
As Sean Evans interviews the stars, they eat one hot and spicy wing at a time, with the heat of each wing increased. The celebrity guests usually find the beginning easy, but then begin to experience the heat when they get to the very hot wings, most times struggling to answer questions.
The great Shaquille O'Neal who recently opened his own restaurant in Los Angeles was next in line to feel the heat and he served the audience a very hilarious moment. One of the best the NBA has ever seen was brought down to tears as he struggled to contain the heat from the spicy wings.
His facial reactions were so hilarious, and at a point, he couldn't stop gulping the gallon of milk placed on the table to help ease the heat.
It is a known fact that Shaquille struggles with spicy food, but he still gave this his best shot. It was going so well for the 47-year-old until he got to wing number six. Here he confessed that he was sweating and his boys were sweating and that the wings were hot. He finally finished the ten Buffalo wings, albeit with much troubles.
Though he battled through and was brought to tears, the star was able to reveal the prank he played on Charles Barkley, a fellow analyst on TNT's "Inside the NBA." He narrated the story of how he once lined Charles' pants with Vaseline and lotion due to his (Charles) preference for not wearing underwear.
When Charles went on to wear the pants, he felt the wetness, and that was a funny sight to behold. He also spoke about his career, relationship with Yao Ming, investment opportunities that he had missed and many more
Right now, no other sight can be as funny as Shaq's reactions to the spicy wings on the show. Social media has gone agog with many revealing they could hardly control their laughter when they saw the video.
Please fill in your e-mail so we can share with you our top stories!