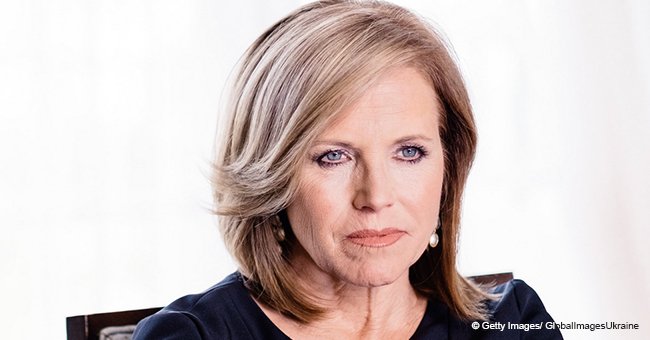 Katie Couric Unearths 'Pretty Shocking' Video of Bryant Gumbel Mocking Her for Maternity Leave

The journalist and author recalled archived footage from 1991 on which she and her former "Today" co-host discuss her maternity leave in terms that would never be accepted in our times.
Former "Today" co-host Bryant Gumbel would be under heavy fire from the public opinion if he had made the jokes he did to Couric, about to take several weeks off from the NBC show to give birth, in 2019.
But the segment unearthed by Couric with the hope of helping change the conversation about working mothers comes from a 1991 episode of the morning show, and it really shows how much things have changed in the meantime.
TIMES DO CHANGE
"I was about to go on maternity leave and let's just say, Bryant Gumbel didn't quite get it. It's pretty shocking to watch it now, 28 years later!" Couric reportedly wrote in a newsletter to the subscribers of her website.
The awkward exchange starts when a 34-year-old Couric tells Gumbel she will be gone for nine weeks in total, to get some rest before delivering her first daughter and to readapt to her new life as a working mother.
"I'm going to relax for three weeks, as much as you can relax when you're carrying around 30 extra pounds," Couric told her co-host back then.
"Then hopefully I'll have the baby and everything. It's a major shock to your body. I hope you realize, when you have a baby. And it takes a while to get back to normal and get on a schedule," she explained Gumbel, who didn't seem to agree.
"Your ancestors didn't worry about that shock to your body. They came right back and worked," Gumbel shockingly replied.
Couric, who was an early advocate of mandatory maternity leave, was quick to point out a heartbreaking fact. "And they died when they were, like, 23 years old," she said.
"You're 34, what are you worried about?" insisted Gumbel, in a comment that many would consider today to be tone-deaf.
THEY ARE STILL GOOD FRIENDS
Present-day Couric shared that even when she is sort of calling Gumbel out for his decades-old remarks, she said that she has a "very friendly" relationship with her former co-host nowadays.
"I think that times have changed so much, but I do think there's a lot of implicit bias against moms," Couric told USA Today.
"I think it's important to make sure your employer is up on the times and that women aren't penalized, consciously or unconsciously when they have children," she added.
A FOUR-DECADE CAREER
During the 40 years of her career, Couric has worked as a TV host on all "Big Three" American networks: NBC (1989-2006), CBS (2006-2011), and ABC (2011-2014). Then she went on to work for Internet giant Yahoo! Global News.
In 1989 she joined the team of "Today" serving as national political correspondent, becoming a permanent co-anchor in 1991, the same year when she became a mother and her above-mentioned exchange with Gumbel took place.
She went on to have a second daughter with her first husband, attorney John Monahan, in 1996, two years before Monahan passed away of colon cancer at 42.
As she struggled to cope with this devastating loss, Couric turned to advocacy for cancer awareness, becoming involved in media campaigns to inspire people to get checked regularly.
FINDING LOVE AGAIN
She eventually moved on and in 2012 she met John Molner in whom she found a life companion. The two married in 2014 in a private ceremony held at her Hamptons' home.
The television star admitted that it wasn't easy to love again following the death of her first husband, but she is happy that Molner won her heart and for the two to get the chance of spending the rest of their lives together.
"I'm not a solitary person. I like company. And John is so funny. He's just got this incredibly dry and wry sense of humor, and he doesn't take himself too seriously. And he's just fun to be around," she told People in 2018.
Please fill in your e-mail so we can share with you our top stories!